COVID-19 and its impact on the holiday season
Thanksgiving has gone and went, and the month of December is upon us. Usually, this means decorating your house, spending time with your family, and going to the Denver Zoo to experience the annual Zoo Lights. COVID-19, however, has other plans. 
With Jefferson County and Denver both at a "red" COVID level, many family Christmas traditions will have to be put on hold this year. 
With all of the COVID-19 restrictions that have been put in place over the last year, Christmas is going to look very different for a lot of people this year. Although Governor Polis has not set a limit on how many people are allowed to gather at this point yet, he has gone on record highly discouraging large gatherings of family. 
Ivy Vicory, a sophomore at A-West is following in many people's footsteps this year and only spending time with her immediate family during the holidays while also finding ways to make memories with her extended family as well. 
"Around 6 or 7 people [coming over]. We are just staying at home and facetiming our extended family," says Vicory.
In an article by the Westword, Governor Polis states, "The more family members who make the decision to self-quarantine, the more likely it is that you're not bringing a loaded pistol to Grandma's head."  
When asked about whether or not he thinks families should be able to gather in large groups, sophomore Declan Robbins responded, "I think they should as long as they are safe and follow the rules." 
Figuring out if they should get together this year is not a concern for families this year. Many families are trying to figure out how they are going to provide their children and family members with gifts this year. Online shopping is the answer to this problem. 
"My parents did it [shopping] all online because it is better instead of going to the store with a lot of people," Robbins stated.
Online shopping, although gaining a lot of popularity already in the last few years, is going to become essential for people who are doing Christmas shopping this year. Although this has become very normal for most people, only being able to do all online shopping can be crushing for families that might not have access to the internet but have no other option because they cannot go shopping in person.  
Trying to keep people safe while still trying to keep the holidays as normal as possible has brought up a lot of disagreement along with it. Many people think that we need to put in more regulations to try and keep people from not getting COVID, while on the other hand, some people think that there should be fewer restrictions than there already is as of right now. 
When asked if she thought more restrictions should be put in place, Vicory responded, "I think if we are going to enforce more restrictions then we should all get care packages, because enforcing more without assistance would cause a lot of people to struggle financially, I think we should enforce more restrictions just to get back to normal faster." 
On the other hand, Robbins voiced out his opinion on if he thought we needed more restrictions by saying, "I don't think so because I think all we need to do is wear a mask and wash hands." 
Much like everything else this year, the holidays have been impacted greatly because of COVID-19, but these impacts are not stopping people from making the most out of their holiday season. Make sure to leave out some hand sanitizer with your cookies and milk this year.
Leave a Comment
About the Contributor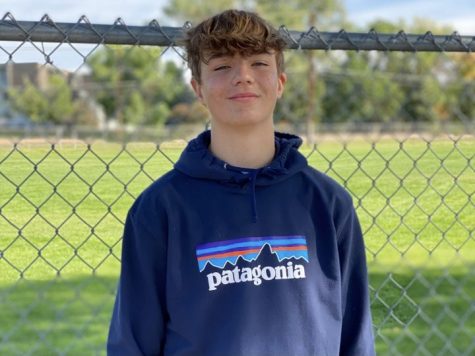 Brady Witherspoon, Reporter
Brady Witherspoon is a sophomore at A-West. This year is his first year on staff. Brady plays football for the school and is very passionate about writing....