Review: Taylor Swift "Midnights" album worth a listen
Award-winning artist Taylor Swift came out with her 10th album debuting on Oct 21, 2022 after coming out with Red [Taylor's version Nov 21, 2021]. Swift has now released a completely new album that many people have heard. The last time she did this was in 2020. The album has 13 songs on it as well as seven extra tracks that Swift has called her 3 a.m tracks. Swift won top honor at the MTV annual video music awards and in her speech after winning she announced the new album. This brought excitement for many Swifty's, [which is what her fans are called.] This album is 44 minutes and 8 seconds long but with the extra seven tracks, it makes the album 1hr and 9 min long. 
On the album, there is a mix of slow songs and mysterious upbeat songs. The best song in my opinion on the album is "Maroon." In this song, she uses darker shades of red to describe relationships as her perception has changed as she has grown older. This song is track two on the album. 
Track three is 'Anti-hero.' This song is good but has brought up quite a bit of controversy. In this song, Swift talks about how she has struggled with looking in the mirror in a normal way and thinking she is perfect. In the music video she shows a clip over her standing on a scale that reads "Fat," and many Swifty's see this as fat shaming. Back in 2020 in the documentary, she told the world about her struggles with eating and this song is backing up what she had said previously. This is the track she picked to have the music video with when the album dropped. It is six minutes long and shows how she's always in the back of her sorrowful mind. In this song, the line that sticks out the most is "It's me, Hi! I'm the problem, it's me, at tea time everybody agrees, I'll stare directly at the sun, but never in the mirror, it must be exhausting always rooting for the anti-hero," Swift sings. These lyrics show Swift's body image has affected her over the years
'Snow on the Beach' features Lana del Ray. It was a beautiful song but del Ray deserved more lines because she has become extremely popular and this could have been the big song on the album that everyone talked about and knew the words, but nope, they had her on the back burner. The song is a slow and less upbeat song than what most are used to. The song is a beautiful song but if you are looking for something upbeat this is not the song for you. When reading through the lyrics "And it's fine to fake it 'til you make it, til you do, til it's true, And it's like snow at the beach," is the one line that caught my attention because at this moment the beat speeds up before calming down again for one last line from the chorus. This emphasis on the beat shows how important this lyric is to telling the story
According to some fans, this album was bad and not the usually heartbroken Swift they are used to. Multiple music pages have expressed their disapproval towards the songs, not liking the 70s vibes to them, but this is good. Even though many fans have expressed their dissatisfaction, there are also many fans that have grown to love the album over time.
Leave a Comment
About the Contributor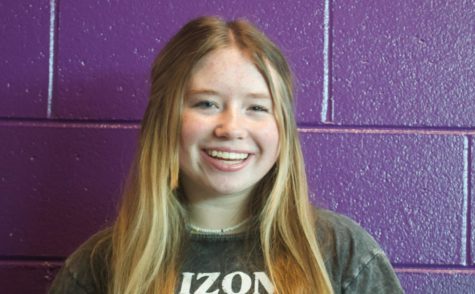 Etta Dyer, Staff
This is Etta Dyer, she is a freshman here at Arvada West and this is her first year as a part of The WestWind. Etta is a cheerleader and is excited to...