Student Council Elections: Amaya Brooks, student body president
As students pass through the halls of Arvada West High School, a wave of colors lace the perimeter as it is election time for class presidents and student body president, who runs aside their vice presidents.
Amaya Brooks, currently a junior, is running with her vice president, Nicole Asuquo, a sophomore at present. Brooks has been in Student Council for three years now. She has also taken part in theater and is currently on the golf team as well as being active in Link Crew.
In previous years, she was freshman and sophomore class president and currently taking the role of social secretary. She had presented that with the help of Student Council, she has been able to be the head of a committee which has given her and Nicole, who has also taken the head of a committee, a better chance to connect with the student body. In efforts to campaign, Amaya and Nicole have created pins, bracelets and posters that make their way around the school in an intention to get their names out their next to their vision.
As she runs for the position of student body president, one of the major things that she and her partner will bring to the tables of Arvada West is an app called the Five Star Student app. The idea of the app first appeared to Amaya as she attends statewide conferences that allowed her to preview the app. As Amaya presented the fact that this app is what lead them to their slogan, "connect, grow and go."
With this app it will allow the pair to connect with the student body as a whole for the total amount of time that any student attends Arvada West. Brooks and Asuquo present the idea that high school is what one makes of it and that since the school is so wide spread, this app allows them a way to communicate with the student body. The app will allow each individual attending Arvada West to make their voice heard by participating in surveys and demonstrating what they wish would improve upon or things they want to be changed. This gives the running pair the ability to receive student based input.
As the pair's slogan is mentioned above, "connect, grow and go," came from the church in which Nicole attends. The slogan means to a sense that they want to connect with others, grow as a community and go serve others. Nicole mentions that the two both strongly believe in being public servants demonstrating that they are for the people. 
One of their big roles in filling these positions is as student body president and student body vice president is to do what they can to win the Gold Council of Excellence, for the Arvada West school. This award has been presented to the school the previous two years, but it is a challenging task that must be worked at. This helps get the positive name of the school outside the small area of Arvada.
Another important role is Veterans Day. This event is one of the more noticed events around the school. The last major role that these two would take on would be making the Student Council run more efficiently. The two will be able to push harder for more ideas and trying to implement these ideas in a hope of change. The duo will take the aspect of becoming the initiators of change around Arvada West, allowing it to develop and reform. The difference that will be made will not be made all at one point in time.
As Brooks states, "We won't be the change that happens in a year, happens in a month. We're planting those seeds, that legacy so that this change can continue to evolve and grow throughout the years that lead to graduation."
Voting will take place on April 19th.
Leave a Comment
About the Writer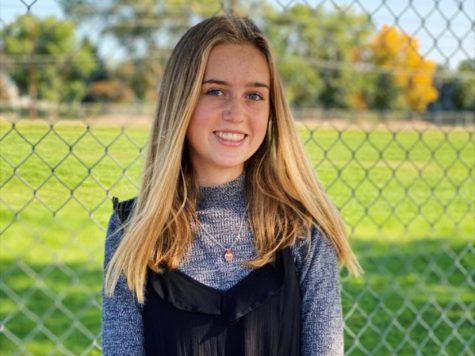 Amelie Bauer, Editor in Chief
Amelie Bauer is a senior at A-West who enjoys running, mountain biking, and spending time with friends and family in her free time.