From Disney on Ice to Apex skating director
Most people remember Disney on Ice from when they were little kids: the cotton candy, the flashing lights, people screaming "Get your popcorn here" during intermission. But for most figure skaters who do not go to the Olympics and want to work in figure skating, it is one of their only job options.
Gordon Harrison is the rink director of Arvada's rink at the Apex Center and a figure skating coach. He has been skating all his life and joined Disney on Ice when he was 19 and stayed in it for five years. For the performers, Disney on Ice is a dream come true: they get paid to do what they love and to travel as well. Harrison says that traveling the world affected him.
"It opens your eyes to the differences that are out in the world. I got to see the mudslides in Venezuela that were pretty horrible. The earthquakes that were in Turkey and Istanbul right after. So, I got to see a lot of that kind of poverty as well as Venezuela on its own. It was very poor at the time, you'd have people living in a mansion, and then right outside you'd have people begging for money," said Harrison. 
Harrison spent all of his college years in Disney on Ice so when he finished he says he only had one choice.
"There are not a lot of jobs when you come out of Disney on Ice besides coaching. And I loved to skate so that's what I did," he said. 
So Harrison started coaching.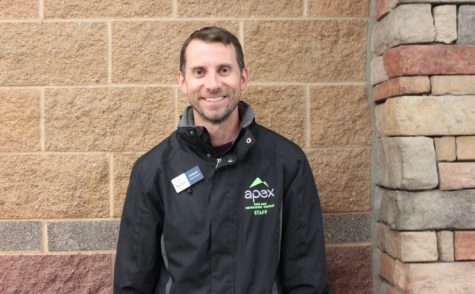 He says finding students can be hard but, "You will find students by either watching them on Learn to Skate, you know, somebody who shows a little bit of talent or owns their own skates. Someone who clearly loves to skate. And you ask their parents, 'would your child be interested in figure skating competitively or taking private lessons?' Or parents will see you working with figure skaters and ask you to be doing that with their kid too."
Harrison has been coaching for a long time–almost 15 years–and a lot of those have been as a skaters' main coach. As he kept working he began to be the type of coach he describes himself as now: the uncle coach.
"I like to just kind of come in have some fun, we do our jumps, we do our spins, and then I give you back like an uncle would."
Harrison, with vice rink director Kaitlyn Hamlin at his side, has brought order to the Learn to Skate program, junior coach program, and is planning on developing many more programs.
Harrison says that being a rink director is much different from being a coach.
"There's a lot more computer work and you get to do more of the program development."
Harrison currently lives in Fort Collins, which means he has to wake up at 5:00 am every morning and drive an hour to get to the rink.
But Harrison says he does not care.
"I plan to work at Apex until retirement. I love it. It's like they say 'If you love your job, you will never work a day in your life.'"
Leave a Comment