A-West students react to the first 2020 Presidential Debate
Aggressive, chaotic, sad, scary, painful, childlike. These are all words Arvada West students used to describe the Presidential debate that took place on Tuesday September 29 2020. The debate occurred between President Donald Trump and former Vice President Joe Biden. 
The debate was described by David Smith in The Guardian, as "the worst in American history, a national humiliation." The candidates talked over each other and the moderator, and bickered with each other during the debate. 
As A-West students approach voting age for the 2020 election, the Presidential debate was an essential form of exposure that helps shape their opinions. Peyton Glenn, the Vice President of a political club at A-West tells of her initial reaction to the debate. 
"Although the debate was overwhelming and oftentimes immature, I feel like a lot was revealed about our candidates and the reality of their platforms," said Glenn. 
The action and new found transparency revealed by the candidate's behavior was important information many students took away from the debate. 
"It pushed me away from both major party candidates," said Grant Oltrogge, a senior at Arvada West, "I believe both candidates behaved in a culturally unacceptable manner."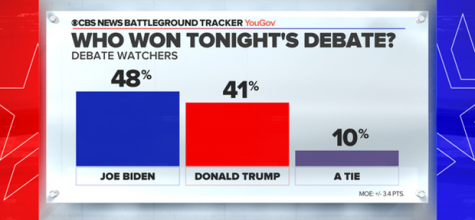 Looking to the American people, CBS News released a poll on Tuesday September 29 2020 depicting who won the debate. The poll showed that 48% of voters responded that Joe Biden won, 41% responded that Donald Trump won, and 10% voted it was a tie. Within Arvada West walls, Glenn responded that she thought neither candidate won.
"Trump made solid points supporting his presidency, but his actions overshadowed and public recognition of these statements, and Biden could not answer a single question consistently," she said.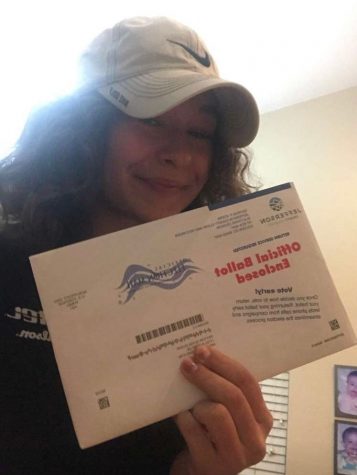 Jolee Rios, a junior at A-West agreed. "I don't think anyone won this debate because neither candidates stated their plans clearly and both of the candidates spent more time bickering rather than answering the questions that were asked."
Some Arvada West students will be able to vote in this year's election making it crucial that they are not only informed but that they know what issues are important to them. The major issues that are most important to students range from "Covid recovery and protest response," said Peyton Glenn, "Conservation and upholding the constitution," said Grant Oltrogee, and  "Immigration," said Jolee Rios. 
Student political awareness and education play a big role in the 2020 election as a new generation of voters come of age.  "If I could change anything in this debate," says Rios, "I would change who the candidates are."
Leave a Comment
About the Contributor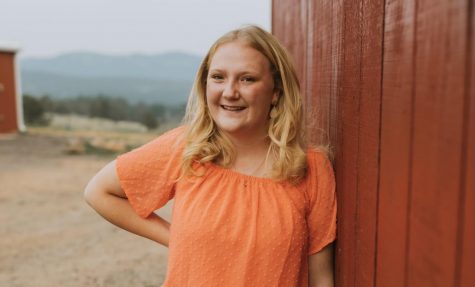 Maddie Adams, Op-Ed Editor
Maddie Adams is a senior at Arvada West. Although this is her first year in journalism, she has previously worked on other publications in yearbook. She...