A-West's car decorating contest winners announced
From a spooky trunkload of skeletons and pirate treasure to a couples costume with a car, Junior Jessica Darling and Junior Zachary Wade have been claimed the winners of the 2020 A-West Car Decorating Contest. 
Taking place from October 26 to 30, Darling and Wade will both receive a gift basket full of goodies for winning the contest. 
Darling got her idea from Pinterest and mentions that her decorations consisted of, "…some skeletons, LED lights, blue tablecloth, pirate hats and accessories, and some black, stringy web. We found the plank in the large pile in my backyard, and for the sharks, we cut up some cardboard, stuck them together, and spray painted them."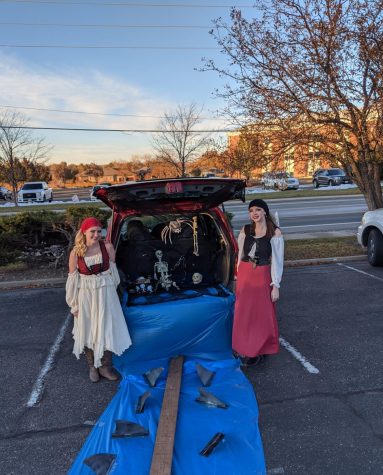 Darling had the help of her friend, Hannah O'Hara – a sophomore at Lakewood High School – in completing her car decorations. 
For her efforts and help Darling comments that "since it was a team effort, I'll probably be treating my friend to some Chipotle." 
The pirate winner also showed off her creation at her church for their annual "Trunk-or-Treat." 
Wade, the other car decorating contest winner, took a different approach by dressing up as a ghost with his Tacoma truck. 
Wade expresses that winning made him feel "excited" and that partaking in the school event was "fun."
The twinning ghost costume sprouted from the ghost trend that had floated around social media during the month of October. This trend consisted of individuals draping a white sheet over themselves with two eye-holes to appear as if they were a ghost and then conducting a photoshoot. 
After partaking in the contest, Wade mentions that "I had fun doing a photoshoot with one of my friends." 
Both Darling and Wade will receive their gift basket in the next coming weeks for their hard work in the car decorating contest. 
Trending or not, Darling and Wade successfully beat out their competition and came out on top as the ultimate car decorating contest winners. 
View Comments (1)
About the Contributor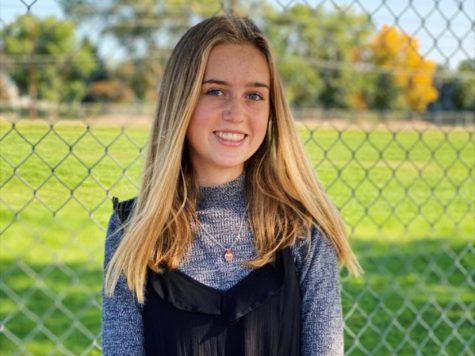 Amelie Bauer, Editor in Chief
Amelie Bauer is a senior at A-West who enjoys running, mountain biking, and spending time with friends and family in her free time.