A-West students give lifelines to brave soldiers
Members of the military sacrifice their lives to protect families across the country, causing them to be distant from their own for long periods of time. Student body president Molly Johnston and vice president Emma Brochers at A-West are hosting the cellphones for soldiers drive for the second year in a row now to give back to these soldiers. 
Johnston started this drive last year after finding out about the organization and wanted to help out in her community.  
"Lots of my family are in the military and I wanted to find a way to give back to our veterans. So last year, I looked into ways to do just that, and found the Cell Phones for Soldiers organization," Johnston explains. 
The drive is taking place from November 2 to 12, collecting old phones, MP3 players, and tablets in a drop-box outside of the main office. These donations will be shipped to the organization where the parts are sold and the money made goes into purchasing calling cards which is what allows the soldiers to contact their families for free. 
"The devices themselves are not given to soldiers, their parts are just sold in order to purchase calling cards," Johnston clarifies.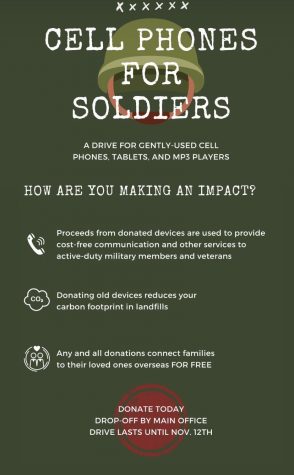 This drive is making it easier than ever before to give back to those constantly fighting for others. The non-profit organization helps provide cost-free communication for veterans and active-duty military members to reach their loved ones. 
Brochers states, "People can help this drive by donating as much as they can and it's important for them to donate so soldiers can have communication with their loved ones at home."
Any and all donations given to this drive are extremely beneficial in directly helping out the troops and veterans. What seems like a busted old phone to someone can change the life of a soldier in helping them stay in contact with those they love. So many military families are separated for long amounts of time and these donations can change lives. 
Johnston reveals her personal connection with this drive, "I remember when my brother was on deployment in Iraq for 9 months and how little we got to speak with him. Fortunately, we were able to speak with him over the phone when he had the time, but some families are not so lucky. So I run this drive in hopes of making at least a little difference in someone's life who is serving and protecting all of us. Those in the military sacrifice so much for us, and I just want them to be able to talk to the people they love."
Johnston and Brochers agree that other schools should get involved in this drive as well because even one donation can make a huge impact. 
"I think other schools should start a drive like this because it is helpful for the soldiers who serve our country and it also gets the students more involved with Vets day," Brochers explains. 
A-West students continue to do their part in making a huge impact on the lives of military members and veterans through this drive, helping make Johnston's hope of helping out soldiers become a reality. 
"Because this drive is relatively new, it might take a few years to get the momentum going on donations. But if multiple places start doing drives every year, that means more devices will be donated, which means that one less family will go without speaking to their loved one who is serving abroad," Johnston concludes.
Leave a Comment
About the Contributor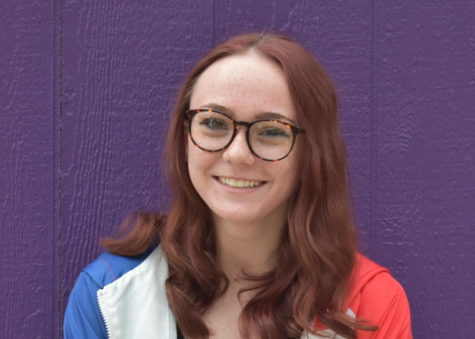 Haylee Griffith, Feature Editor (Fall '21)
Haylee Griffith is a junior this year and this is her third year on staff. She has had a passion for writing and painting since she was little and enjoys...