A new surge of COVID-19 vaccines now in young people
COVID-19 vaccinations in the U.S. continue to roll out, but are enough people being protected? An article found on CNN talks about the new surge of vaccinations soon to be released to young people. 
However, the article states "Not enough people are protected yet and the country may be at the start of another surge."
The U.S. now reports a record, "Over the weekend with more than 4 million Covid-19 vaccinations doses administered in 24 hours, according to the Centers for Disease Control and Prevention."  
 Teen choice and life management Teacher at A-West, Brenda Sprague states, "I think that for any age of individual if they believe in the vaccinations, they will feel more at peace of mind once they have been given the vaccine. However, I am not completely sure about the biological effects." 
It is possible that as more adolescents get vaccinated they will feel more relaxed and COVID-19 will be another shoulder shrug to them. 
While children appear to be less affected by COVID 19 without the vaccine, it could still help their health, by giving them a stronger immune system according to the local Healthline website. 
LeAnne Downing, the school nurse at A-West states, "I do think the vaccine will be safe for younger people. It was developed and tested carefully. Many people die from COVID, even young people, but the CDC reports the number of people having allergic reactions to the vaccine is rare". 
The Centers for Disease Control and Prevention states, "Over 167 million doses of COVID-19 vaccines were administered in the United States from December 14, 2020, through April 5, 2021. During this time VAERS received 2,794 reports of death."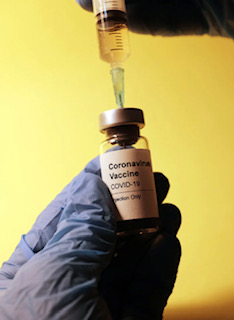 Children who plan on getting the vaccine, are more likely to have healthier symptoms, including fewer headaches, and more energy because it is very uncommon for a young person of age to catch COVID-19. The CDC is proceeding to examine the vaccine, and pay close attention to the symptoms that young people experience. 
Teens in today's society enjoy going out, however, with COVID-19 preventing that all teens do is mope around. With the vaccine being given to younger children, society would go back to a somewhat normal state. NBC News, explains how children took an emotional toll since the pandemic. 
Madison Jenkins, a junior at A-West states, "As a young person in society today, I believe that when we are allowed to get the vaccine, we will proceed on with our normal lives. Society for us younger kids will go back to normal. I am sure we will still take some precautions though."
There are some worries about young children receiving the COVID-19 vaccine, all vaccines cause fuzziness, crying, and restless sleep. The symptoms will go away after 24-48 hours. 
"Our bodies are not fully developed and receiving the vaccine can affect our bodies, and we young kids may not be able to fight off some of the things the vaccines throw at us," states Madisen Jenkins. 
Teen's bodies are not fully developed, and this could cause the vaccine to do something to their bodies and change a way of habits. 
"As more and more people get vaccinated, I hope we can return to normal life. Ball games with crowds, not worrying about getting each other sick. Masks may still be around for a while, even with the vaccine," explains LeAnne downing. 
After being vaccinated people will be able to go out in public and more places would open up to the public. Masks will still be enforced for further safety, but life could go back to somewhat of a normal phase. 
After young people are in advantage to get the vaccine, there are hopes that life will go back to the way it was. The times people want to remember, rather than a life full of masks and sickness. After quarantine and missing milestones in life, it is time for a change. 
Leave a Comment
About the Contributor
Taylon Walden, Reporter
Taylon Walden is a junior at A-West. This is her first year taking journalism. In her free time she enjoys reading outside as well as going on daily runs....