In-N-Out burger: Is it really worth the hype?
With new In-N-Out locations coming to Colorado, you may have heard a lot about this popular food chain. Based in California, the restaurant chain ranged from its home state to Nevada. Until recently, that is. This year In-N-Out finally came to Colorado, and already they are everywhere. Currently, they have locations in Aurora, Lone Tree, and Colorado Springs, but soon they will have locations in Lakewood, Thornton, and Loveland. The arrival of In-N-Out Burger to Colorado was exciting to many. On the opening days, mile-long lines formed outside of the new restaurants, with wait times exceeding 12 hours. Now to some this poses a question: What's so special about In-N-Out?
Even with the long lines and wait times, people are still willing to wait to try an In-N-Out burger. Then there are people who don't understand why people go crazy over this popular fast-food restaurant. Some think the food is not that good, or it is not worth the wait. But the menu consists of just four main items: Burgers, fries, milkshakes, and soda. But the mystery as to why people are so crazy about this restaurant still stands.
An Instagram poll posed the question to A-West students: "Is In-N-Out worth all the hype?" 123 people responded, and the results that came from it were tight. 63 out of 123 voted that it is worth it, and the other 60 people voted it is not worth it. With close results like this, it is still hard to determine if the burger joint is worth the long lines and attention on social media. Some think that In-N-Out is overly talked about, or "over-hyped." Although, others would disagree.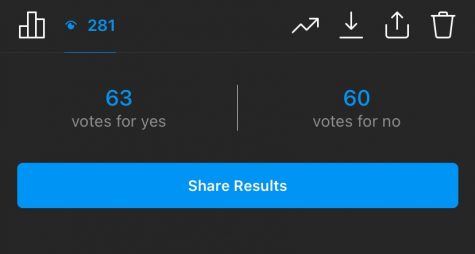 Madison Wahlmeier, a sophomore at A-West, says "I would say no [it is not over-hyped] because my uncle is obsessed with it and so are my parents so I would take their word that it's super good." 
Wahlmeier has never been to an In-N-Out burger or tried their food, but from what she has heard from family, friends, and social media, she has a positive look on it and plans on trying it in the future.
The praise over the chain is not new either. In places such as California, Arizona, and Nevada, states where In-N-Out has been around for many years, one can still find themselves waiting in a long line to get a meal. 
So with the data collected, it is still unclear whether In-N-Out is worth it or not. Maybe it depends on location, someone from the East coast may argue that In-N-Out is not worth it because they do not have an establishment in that area. Whereas someone on the West coast could say that it is totally worth it because they do have locations around them and have tried their food. At the end of the day, maybe it all comes down to a personal preference.
Leave a Comment