Kenzie May blows internet away
A windy Saturday in November didn't seem to keep Arvada Skate Park users inside. With dozens of friends and families gathered together many practiced their impressive and somewhat dangerous tricks. One girl, however, stood out from the crowd with a sparkly black helmet. As she laced up her turquoise and brown roller skates, Kenzie May's enthusiasm and passion for the sport grew more prevalent with each passing moment.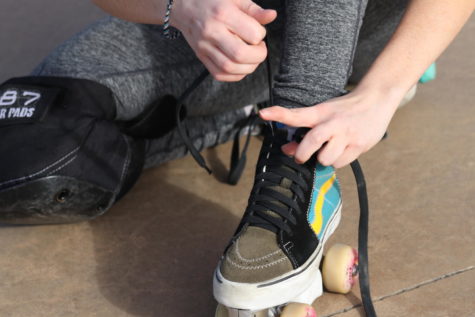 As a junior at A-West, May was shocked when a video on her Instagram went viral, reaching over 14 million views.
"It's insane! 14 million people saw my video! That wasn't my intention when I posted it", May continues "I'm speechless honestly."
Her video left viewers speechless as well. She is seen learning a "death drop", a skill where one holds a handstand before dropping down into the concrete bowl on roller skates. As she does so, the video shows a community of skaters cheering her on until she is finally able to successfully complete the trick. This is just one of the incredible tricks she can do and surprisingly, she has only been skating for about a year. 
She started skating on September 16, 2020, but her experience with it has deeper roots. Her parents and extended family all played on an ice hockey team together growing up, leaving her familiar with the sport.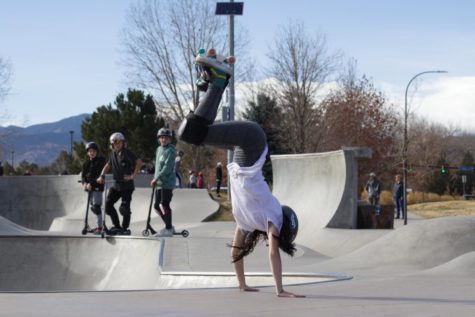 "My two older brothers played hockey growing up as well, and we would all go down to the rink in our neighborhood, and I would be the referee. We've been on skates since we could walk," May recalls. 
One of her brothers was big into scootering, so she first tried using that on the skate park. 
She explains, "He is a big inspiration to me, so I wanted to start scootering, but that didn't really stick with me."
That's when her good friend and inspiration Ella Jensen, who had started roller skating nine months earlier, introduced her to the world of roller skating by letting May try some skates on.
"I went on Amazon and ordered some $30 cheap skates that I went through in two months, and then I borrowed Ella's and it [my skating journey] took off from there", May explains.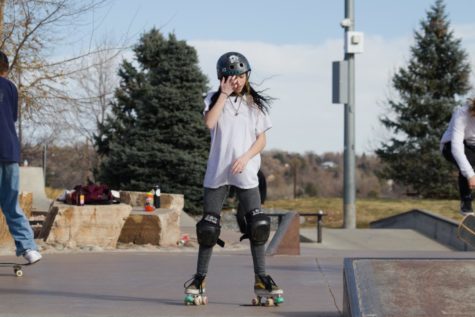 Now, May skates for hours on end. On a given Summer or weekend day, she will be at the skate park for nearly ten hours. During the school year, she practices from 4-5 hours a night. During the height of the pandemic, she was able to spend countless hours practicing as well. Luckily, she does not do it alone. 
"Normally, there is a whole group of us we call 'Our Family'. There is a huge group of us that are here almost everyday all Summer", May describes.
Watching May practice, it is clear that this is her place. Her outgoing personality shines through as she greets several other skaters, skateboarders and scooterers. Not only does she enjoy skating itself, she loves the community of people that it brings. 
She expresses, "I feel like a lot of people have a bad outlook on the skate park. But, it's a very positive, welcoming community."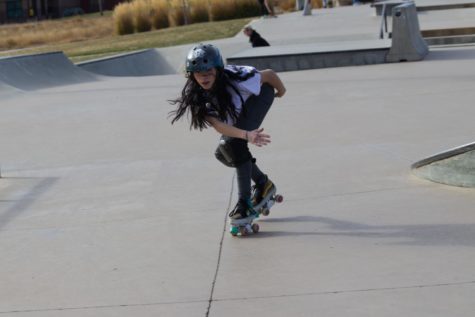 With only a year of practice, May's skills seem flawless. She can flip, handstand, jump, and roll in almost anyway one can imagine. Each day, she puts herself at risk to practice and learn new skills. Aside from a time she once face planted, she has been lucky enough to stay away from injuries.
"I haven't majorly hurt anything. I'm really hoping to not break anything in the future! That's why we have safety gear", May says.
May's athletic ability is if not competitive with or more advanced than the majority of A-West student athletes. While skating is gaining popularity, May has a lot of hopes for the future. 
She explains, "I really want to open my own skate shop with my friends in California."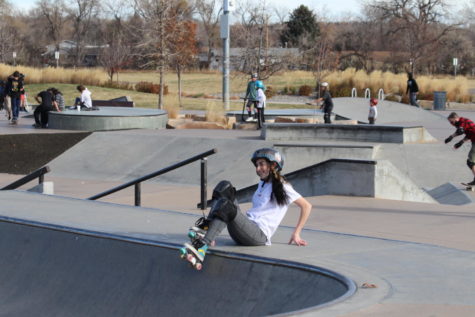 May would also love the opportunity to be sponsored and potentially join a team if the future allows for it. She hopes that there will be more opportunities to compete for roller skating just like skateboarding or scootering has.
Overall, it is clear that May has big aspirations, and she is definitely going after them each day with her hard work. 
May offers advice to those looking to try something new, even when it seems scary. 
"Me, I started somewhere. That great skater over there, he started as a beginner. Everyone starts somewhere", May continues, "Go for it! Who cares what people say. People's opinions do not matter. Only what you think about yourself is what matters. You are great and you are the best person you can be, and you can still grow to be a better person. Do it! Just go for it!"
Leave a Comment
About the Contributor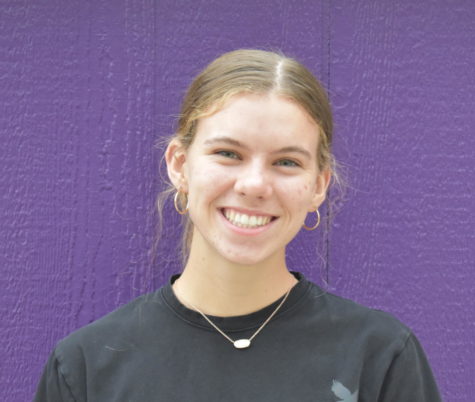 Alex Larson, Editor-In-Chief
Alex Larson is a senior at A-West this year. She enjoys running, singing, writing and playing piano. Her favorite type of story to write is an op-ed, because...