Aiden Gundlach: Senior Spotlight
Graduating high school requires hard work and determination. Seniors must push through their last year despite the trials and tribulations they may face. Keeping up with sports, finishing up AP tests, and committing to colleges all may be exhausting feats but when completed, a bright future nears.
Meet Aiden Gundlach, A-West senior. He has not only worked hard in school but in sports as well. Gundlach has been a part of the varsity tennis team for both his junior and senior years. The road to varsity success did not come easy.
Gundlach explains, "I only started playing tennis my freshman year, playing on JV my freshman and sophomore years." 
The mere fact that Gundlach just picked up a racket in the beginning and made varsity two years later. He had shown the grit that is expected of wildcats here at this school. There is no other feeling like when hard work pays off. 
"Getting bumped up to varsity made me feel good because I felt that I had gotten better in such a short period of time." 
While becoming a varsity member of tennis was important to Gundlach, the community around the tennis team is what he really cherished during high school.
 "On both teams I felt like I fit in, being the only senior on varsity this year gave me a confidence boost that felt much needed", Gundlach recalls. 
Outside of sports, much of Gundlach's high school life was downtrodden by covid. It was not an easy thing to go through for anyone in the student body. But Gundlach kept his head forward and persevered. In which, when the time came that covid was over, Gundlach's favorite high school moment emerged.
Gundlach remembers, "Going back to school in person without masks being required was the best moment. Being able to see my friend's faces for the first time since the middle of sophomore year was a great feeling." 
Gundlach was out of his routine and did struggle at times being in quarantine. However, his friendliness helped him through everything that was going on, leading him to enjoy great times with friends once it was possible. 
For Gundlach, getting back to school meant, "That having the classroom environment without masks that I haven't had for a large period of time just gave me a sense of normalcy. Going back to a familiar way of life as far as school goes has helped me get back into a routine that I have missed."
High school life was restored and Gundlach has since joyfully lived high school life to the maximum potential. Gundlach is committed to his friends as much as he is to his school work and standing. He keeps a (GPA) well above the school average and has become one of A-West's finest scholars. However, these accomplishments were not achieved alone.
It takes a group effort to help a high school student succeed. Family, friends, teachers, and counselors are all needed in order for true academic success to be fulfilled. Gundlach received much help which is undoubtedly grateful for. 
Gundlach says, "I would like to thank all of my teachers for the support they've given me throughout the years. I also want to specifically thank Mr. Thayer for being the fun quirky teacher that always had my back throughout my high school career. I would like to wish him a very happy retirement and am excited to see what he does next!"
As for college, Gundlach's gritty work has paid off. He achieved the proper SAT score and GPA to attend his dream college. That is the University of Florida of course if you can't already tell by his ubiquitous blue gator sweatshirt he wears around the halls. He will be attending next fall.
Without a doubt, Gundlach is stoked for this opportunity and all of the new experiences he may encounter in college. 
Gundlach is especially excited about, "Going to sports events like tennis, baseball, and softball are very exciting. I'm absolutely pumped that I get to see the football team under new management and hearing all 90,000 fans cheer in The Swamp."
Like most seniors though, Gundlach had senioritis working against him. At times there comes a point where it could be hard to focus and stay motivated.  However, Gundlach always had one goal in sight.
He exclaims that, "Knowing that the University of Florida holds such high standards because they are number five in public universities in the United States, if I didn't do well enough this year, I don't know if they would've let me in. Not doing well in my final year didn't feel like an option, so I had to live up to the Gator standard. I also wanted to make my family and myself proud because of what I've gone through to get to where I am today."
Gundlach has a bright future ahead of him. He will major in biology while attending the University of Florida in hopes to become a veterinarian. Gundlach may have not been the class president or the tennis captain, but he always exhibited a calm manner that was unparalleled. He was one of the calming forces in A-West, always striving to become the best academic and athletic version of himself. It is what has gotten him to this point in his life.  Many wish Gundlach the best of luck!
As for the seniors of 2023, Gundlach leaves with one small message: "Senioritus is no joke!"
Leave a Comment
About the Contributor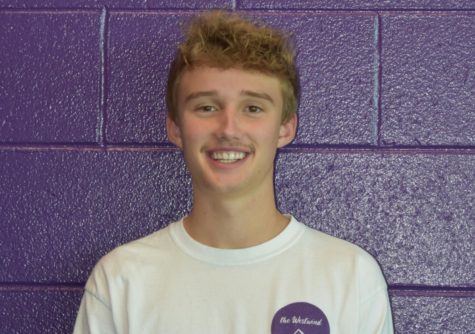 Riley Swanson, Editor in Chief
Riley Swanson is a senior this year at A-West. This is his fourth year participating in journalism. His favorite type of journalism is sports journalism,...