Sophomore spotlight Mia Dark
Managing a busy schedule is the task of many, especially at this time of year. Yet, Arvada West Sophomore Mia Dark makes it look easy. She has a 4.3 grade point average and takes one AP class along with four honors classes. Despite this burdensome educational schedule, she keeps her grades up, succeeds in extracurricular activities, and works as a lifeguard on the weekends. 
Dark makes it a priority to keep her grades up by giving herself 30 minutes to an hour every day to make sure she is caught up on her work:  "I dedicate 30 minutes to an hour after swim practice or in between dinner, and then I definitely utilize my advisement to get extra work done." She also makes sure to utilize her off-block as well as advisement to get extra work finished. "I'm not unprepared for finals but there is more work that I need to put in," Dark expresses.
For the rest of Dark's high school career, she looks forward to continuing to build bonds with the people around her including the new friends she has recently made. Dark makes sure to prioritize socializing with her friends to keep an even balance between her school and personal life. 
Dark participates in many extracurriculars here at Arvada West including tennis in the spring, participated in the fall play, and is currently on the swim and dive team where she has practice every day for about two hours. On Monday mornings Dark starts out her day with swim practice. On Tuesday, Wednesday, Thursday, and Friday she ends her day with swim practice. 
As if this schedule was not hectic enough, Dark is also a lifeguard on weekends. On Saturdays and Sundays, Dark works all day unless she has a swim meet and works on Mondays after school. However, with finals coming up Dark plans on taking a break from work to get extra studying time in. "I'm not unprepared for finals but there is more work that needs to be put in towards finals"
Dark aspires to be a neurosurgeon in the future and is preparing for that future now, in school. That's a big goal considering to be a neurosurgeon one has to go through another ten to twelves years of additional education. But Dark already has a plan to complete this: "I'm going to school to get my undergrad in biochemistry, and then go to medical school and hopefully, get a residency somewhere."  To get an early start, Dark explains,  "I'm trying to get some of my prerequisite done now so I don't have to take them in college.  I'm taking anatomy this year, as well as honors chemistry,  and then I'm planning on taking psychophysiology next year.  And, I'm part of HOSA (Health Occupations Students of America) which is our premed club."
Some students might be intimidated by this amount of success in a student so young; however, Dark's tip for success is never letting herself get behind.
Leave a Comment
About the Photographer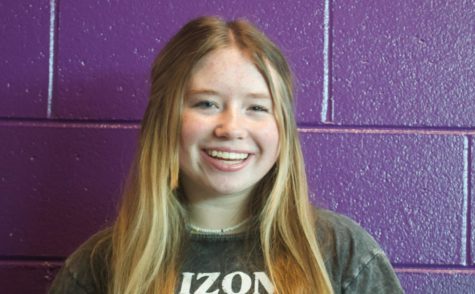 Etta Dyer, Staff
This is Etta Dyer, she is a freshman here at Arvada West and this is her first year as a part of The WestWind. Etta is a cheerleader and is excited to...