A Story Through Song: Arvada West's Varsity Men's Choir and CMEA
The woven noises of vocals, instruments, and laughter creates the atmosphere that is the Performing art's hallway at Arvada West, and with good reason; this year's Varsity Men's Choir has quite the uproar to make with a performance at CMEA!
 On January 28th 2023,  Arvada West's Varsity Men's will be attending CMEA. Director Chris Maunu explains, " CMEA stands for Colorado Music Educators Association, it's basically the largest professional organization that music teachers are a part of. All teachers, any level from elementary to college, go to Colorado Springs and do all kinds of performances and they can attend clinics. The performances are the way to show excellence in music in Colorado."
 In the vocal department, Varsity Men's Choir is a massive title to have.  The choir is made up of four vocal sections, Tenor one, Tenor two, Baritone and Bass.
Like all choirs at Arvada West, there is an audition process. Explaining the process, Maunu says," All of our kids go through an audition process each year for placement for the following year. Everyone does the same audition consisting of tonal memory, where I play a few notes on the piano and students sing them back acapella. Students also have to sing a verse of a song. We use "America the Beautiful." They also have to sight read a four measure melody that they haven't seen before so they are given a minute to find  their starting note and have a little bit of time to figure it out, then they sing it acapella."
 The opportunity to be a part of CMEA is a big deal, Maunu explains, "It's a great opportunity to get outside our community and perform somewhere else. I think the most meaningful thing is that the audience is made up of musical educators. All the fine details and expressive musical elements that we work really hard on the audience members really appreciate and notice. " 
Summarizing the audition for CMEA, Maunu says "There's typically 120 through 130 music ensembles of all types that submit recordings. We submitted two different recordings. We went to a very nice church in Downtown Denver to do a professional recording session last Spring. We then sent in the recording. Basically the committee sits down not knowing who the school is. Each ensemble is assigned a number they listen to and is evaluated in a blind committee. They then select a number of ensembles to represent Colorado music. It's a really big honor to be chosen, especially since in the choir world, there aren't a lot of competitions around the state. It's a really big honor to be chosen.
One member of the choir, Braiden Portie, says, "When we went to the church, it was really cool. It amplified our voices and made a cool echo, where you could notice all the little details in our voices."
With an upcoming performance in addition to their in school choir tasks, a lot of practice happens in order to make Varsity Men's what it is. The group meets together every week during Advisement and after school on Mondays. Portie adds, "Just this last week, we came in on Saturday to rehearse for three hours. I think that it's a big time commitment, but it's worth it to get the better sounds that we're going for."
Between all the practice in and outside of school, obviously a close bond has been formed between the boys of the choir. Portie says," It's really easy to make friends and connect with people there. You are all in there doing the same thing. There is no judgment;it's a judgment free zone. It's very easy to find people you like."
 He adds,"Our relationship helps us bond more and get a better sound even. We aren't afraid to sing around each other and we aren't closed off."
 With all the accomplishments, practice and success of the Choir department, Maunu has a lot to be proud of. He says, "I'm always about the students and providing opportunities for them to shine in their best musical selves. I'm proud of how they perform in an authentic, vulnerable way; they really put themselves out there. I think that separates a good choir from a great choir. I'm really proud of our students."
On the 28th of January, the choir will load onto a bus and head down with a performance at 11:30, making it Arvada West's 11th time in the past 17 years to perform at the event. With all the hard work they have done over the school year, it is obvious that this will be a special performance, and a moment to remember for the boys of Varsity Men's Choir.
Leave a Comment
About the Contributor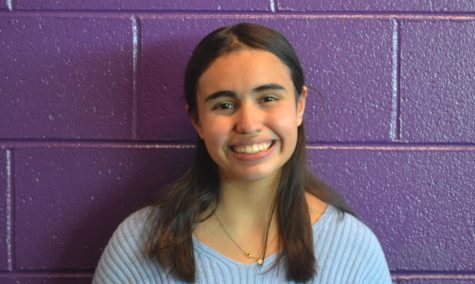 Chloe Rios, Staff
This is Chloe's first year in journalism. In her free time, she loves to do anything creative (painting's her favorite) and spend time with her friends....