Ways Teens can Eat Healthier During School
Most teens either don't eat breakfast or lunch, instead they rely on fast food to get their meals for the day. In fact, studies show that 10-30 percent of students don't eat breakfast every day. Eating healthy is an essential part of being able to focus in school, as students are more likely to struggle during the school day without proper nutrition. The recommended amount of protein is 46 grams for teenage girls and 52 grams for teenage boys daily. Here are some ways teens can practice eating healthier.
Jerky

Trail mix

Turkey roll-ups

Yogurt parfait

Veggies and hummus

Tuna

Hard-boiled eggs

Peanut butter celery sticks
Additionally, because most teens don't eat breakfast consistently, here are some quick meals that you can make the night before and grab in the morning on the way to school.
Chocolate Peanut Butter Overnight Oats
1/2 cup old-fashioned oats
1/3 cup chocolate or plain almond milk
1 tablespoon baking cocoa
1 tablespoon creamy peanut butter, warmed
1 tablespoon maple syrup
Miniature semi-sweet chocolate chips, (optional)
Directions 
In a small container or Mason jar, combine oats, milk, cocoa, peanut butter and maple syrup. Seal; refrigerate overnight. If desired, top with additional peanut butter and mini chocolate chips.
Ingredients
6 large eggs
2 tablespoons of 2% milk
1/4 teaspoon pepper
1 tablespoon canola oil
1 cup shredded cheddar cheese
3/4 cup diced fully cooked ham
4 flour tortillas (8 inches), warmed
Directions
In a small bowl, whisk the eggs, milk, and pepper. In a large skillet, heat oil. Add egg mixture; cook and stir over medium heat until eggs are completely set. Stir in cheese and ham.

Spoon egg mixture down the center of each tortilla; roll up.

Put in the fridge overnight and eat in the morning.
Many kids don't pack their own lunch either, largely it's because they don't have enough time in the morning or simply don't know what to pack. Here are some ideas for lunches you can pack the night before and will help keep your energy up during the day.
Ingredients 
1 bagel
1 tablespoon pizza sauce 
1 tablespoon cheese
optional extra toppings
Top a sliced bagel or sliced baguette with pizza sauce, cheese, and your favorite toppings, then heat in the oven or in the toaster oven until the cheese is melted and the bread is toasted to your liking. Simple enough that you can make it in the morning or the night before.
It's time to take your health during school more seriously. A majority of these recipes provide an adequate amount of protein for students. It can be as easy as following a couple of steps. With these simple yet delicious lunches and breakfasts, you are getting enough of what you need to keep you energized throughout the day.
Leave a Comment
About the Contributor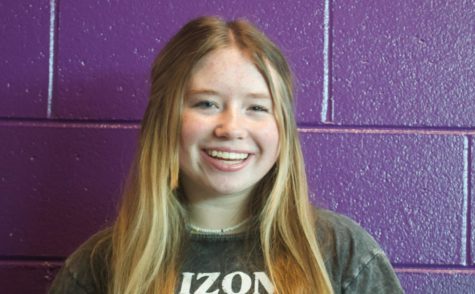 Etta Dyer, Staff
This is Etta Dyer, she is a freshman here at Arvada West and this is her first year as a part of The WestWind. Etta is a cheerleader and is excited to...