Senior Spotlight: Kiersten Ferris
As all the seniors get ready for graduation and some get ready for the acceptance letters into their top colleges. Kiersten Ferris reflects on getting accepted into her number 1 college, as well as her overall high school experience as the school year comes to an end.  Some things that stand out are that she has a twin brother that not a lot of people know about. When around the school you will always see her with a different pair of shoes that she most likely painted herself.  She has a golden doodle named Denver. On the weekends she likes to go line dancing with her friends. 
Ferris is a very busy person; she is currently in 5 clubs. She participates in link crew, sparkles, HOSA(Health Occupations Students of America), National Art Honor Society, and National Spanish Honor Society.

 "A lot of the clubs are before schools," Ferris explains.  This makes it so she is able to have a job along with doing other things such as family things and homework. To succeed in all the clubs she participates in, she must have excellent time management skills. "I use a planner like an agenda and then section off my time for everything" Ferris shares. She also color codes everything so that it is easy to keep track of. 
"Sparkles is a big thing in and of itself" she explains. This is primarily due to her being the captain. She has to be really good at communicating with admin, parents, teachers, and students. She does all of these things to make sure that everything runs smoothly. Recently there was a senior night for sparkles. She invited the mentors out for lunch beforehand—the night before she made every senior a personalized sign.
Furthermore, Many people see her as someone who they can go to if they need advice or help with things. Mrs. Lewis is a Spanish teacher who works with Ferris from time to time. Mrs. Lewis and Ferris have known each other for 4 years. Mrs. Lewis stated " She is a really fun and helpful student. I love working with her."  She helps Sparkles mentors and students get to football and basketball games. Overall, She is a really helpful person.  
In addition to being in all of the other clubs, she also took a sneaker design class. She is a big sneakerhead, and she got an internship at xero in Broomfield. " I would work on different patterns and colorways with them" She mostly makes and designs shoes for herself and her friends. When she is around the school, she will be in a lot of different shoes with breathtaking designs. 
Obviously, doing all of these this she will get stressed when she gets stressed, she goes on hikes when it's warm out. She will also sometimes take a mental health day. She might go shopping or just stay home. "I got to keep my mental health balanced with everything else that I do." she shares
Ferris Stated "For the most part, I like the school environment. I mean there are always some negatives in some things but there are a lot of positives here." She didn't really know what to expect when she was going into high school, but she has built a support group that she can go to if she is experiencing problems. These people include teachers,  like Mr. Iacobelli. In addition, She really likes the sneaker design class and the marine biology class. Right now they are dissecting a shark. She is excited and kind of scared to graduate.  
In terms of graduation, Ferris has already been accepted into multiple colleges but recently got into her top college, Regis. Her top schools were Regis, Mesa University, CU Boulder, and other smaller colleges. "I want to try a bunch of new things when I get out there." Ferris explains  is going to school for nursing, stating "I want to go into travel nursing and help the 3rd world countries."
Transitioning into college from high school is stressful. It is plain to see that Ferris handles it. All you have to do is look at her accomplishments to see the success she has achieved.
Leave a Comment
About the Contributor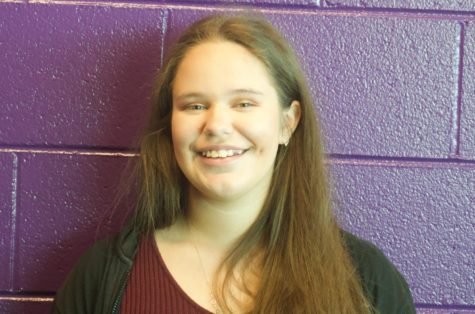 Ashlyne Gomez, Photo Editor
Ashlyne Gomez is a freshman at Arvada West High School. She is the photo editor she has always wanted to edit pictures and the west wind gave her the opportunity...