Ex-NFL star turns to coaching at Arvada West High School
How many high schools can say that their head football coach played professional football and has a storied 21-year career? Arvada West High School can, Brad Pyatt has been the head football coach at A-West for 10 years.
Pyatt first started playing when he was eight years old, progressing through high school football, college football, minor leagues, and all the way up to the NFL. His NFL career spanned from 2003 to 2008 on multiple teams: the Indianapolis Colts, St. Louis Rams, Miami Dolphins, and Colorado Crush. "I was fortunate enough to be coached by Tony Dungy when I was with the Colts it was Tony Dungy and Bill Polian, he was the general manager whose phenomenal, he's been around forever."
Pyatt is an Arvada West graduate and played for high school coaching legend, Dave Logan. Logan began his coaching career in 1993 at Arvada West High School and he won his first state title in 1997. "Dave Logan was my head coach, that was awesome" Pyatt quotes.
He was a two-time high school All-American, two-time All-Colorado, and All-State selection in 1996 and 1997. He played at the University of Kentucky from 1999-2001 and the University of Northern Colorado in the 2002 season before leaving college early for the NFL.
Coach Pyatt's son, Jaxson Pyatt is a freshman here at Arvada West and also plays football. Coach Pyatt doesn't push his son any more or any less than he does other athletes. "I've never really pushed my son other than what he wanted to be pushed…. I don't push him harder than anyone else, certain kids who want to be pushed I'll push them hard and he's the type of kid who wants to be pushed." 
Pyatt still looks up to his coaches and uses similar coaching techniques to the ones his previous coaches used. "The biggest thing is how you treat people. Yeah, winning is important, but it's how you treat the people in the process. That's what I learned from them."
Students and staff have their own hopes up for this team in the future, but Pyatt has aspirations of another state championship. "I think we have a great group of young men who can do it. The boys are working really hard in the weight room."
View Comments(1)
About the Contributor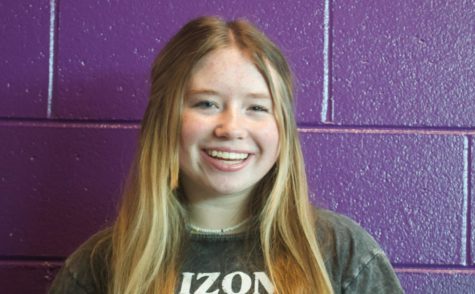 Etta Dyer, Staff
This is Etta Dyer, she is a freshman here at Arvada West and this is her first year as a part of The WestWind. Etta is a cheerleader and is excited to...