Colin Christopher: Athlete, student, friend, leader
While the ways to describe Colin Christopher are numerous, the one thing they all have in common is how they make up the unique person that he is.
Colin Christopher has changed a lot since entering Arvada West as a freshman, and not just physically. "When I came into high school, I just wanted to have the best time I could, make some good relationships for the future. I definitely had bigger goals grade wise, and those kind of switched because I figured out that grades weren't the most important to me, as a person, so that changed as I went throughout high school" he shares.
The relationships that Christopher has built have been a hallmark of his time here, as evidenced by all the connections that he has made. "It's important to know your teachers and go in for time and get to know them as a person so that they can better help you be a better student" he says. Taking a slightly different approach with his fellow students, Christopher states, "With my friendships, I spend a lot of time with people outside of school just hanging out, and that's helped me be more focused in school because I know I have people who have my back, and that's teachers and friends."
High school is meant to help students grow not only academically but socially as well. Chirstpopher can attest to this, sharing how Arvada West has taught him to "Be more open to new things." 
He continues with, "When I came in (to high school), I was a little closed off, and didn't want to go out of my comfort zone, so it's definitely taught me to open up a little bit more. And then it's taught me how to get things done, whether that's procrastinating and waiting until the last minute and popping something out or learning skills that can help me produce work in the future."
However, Christopher feels that he has also had an impact on Arvada West, both with teachers and students. "I feel I've tried to be a positive influence. I'm in the student council, and I just always tried to make it fun for everybody, make sure everyone's having a good time, because once you learn that you can have fun and have a good time, it makes your whole day better. Specifically, he points out how "little positive things, like a smile while walking through the hallway, can make someone think differently."
Moving on to the next stage of his life, Christopher admits that he's nervous, yet excited to be graduating. "It's going to be the next step of my life, and it's going to be fun, but you're leaving behind so much at the same time" he shares.
Specifically, he reflects on how he'll "miss athletics and going to games with people. I'm going to miss so many teachers, whether it's Ms. Welsh, who has made an impact on me, or Mr. Tanguma, or even everyday teachers that I've had."
There are some nerves that arise from Christopher questioning if he's ready for his next steps, as he shares "I think there are a lot of things that I still have to learn, like just normal life skills, things that my parents can do that I still haven't figured out yet."
Despite this, in giving advice to incoming freshmen, he states, "Don't be afraid. Take it all in, and as you do things, remember that your actions have consequences on not only you but the people around you, so keep yourself in control, and then just have a good time while you're here."
In terms of the future, Christopher will be attending Colorado Mesa University next year, with no plans as of now for what his major will be. This doesn't phase him though, as he knows that he will have time to grow and change in the following years.
Worries about the future aside, his final words of wisdom ring true with the message he has been trying to get across throughout his four memorable years at Arvada West: "Have fun!"
Leave a Comment
About the Contributor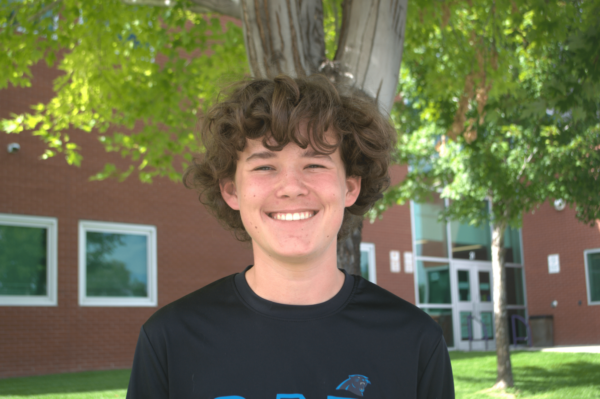 Madeus Frandina, Reporter
Madeus Frandina is a Sophomore at A-West who loves anything involving literature and plays soccer. A second-year staff member, Madeus currently serves...