Senior Aubrie Nicholas runs along the road of the A-West community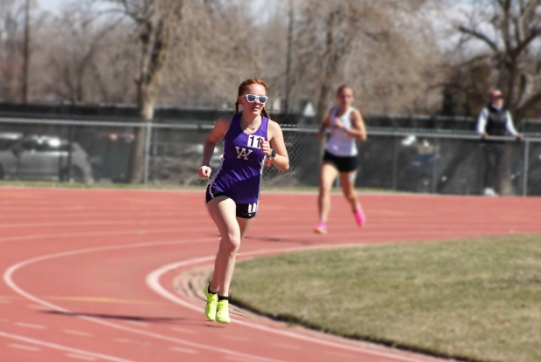 As she prepares to leave high school and walk across the stage at graduation in May of 2023,  Arvada West Senior Aubrie Nicholas reflects on her high school career and time spent as an active member of various activities. Throughout her time and involvement in the A-West community over the years, Nicholas has had a variety of experiences in her extracurriculars, and has overcome challenges while earning her successes. Her journey has been filled with hours of hard work and perseverance in athletics and different communities at Arvada West. 
Sports:
Through her entire life, Nicholas has had a strong passion for sports, continuously fostering her skills in the athletics she participates in. 
From a young age, she particularly has been involved with track and cross country. She ran in elementary school and says she,"… really enjoyed running at a young age. "
When she got to high school, she seeked the opportunity to continue her love for running  by joining the Arvada West Track and Cross Country team. To her, this was a possibility to have a chance to participate in her life long passion, in a competitive sense.
"I realized how cool the competition is to be a part of…the team aspect is cool to be a part of" Nicholas comments about her experience in the athletic.
Track and cross country is one of two sports that Nicholas has participated in throughout her life. The second sport that she has fostered a passion for over her life is horseback riding. Through her cousin, she got involved and has been riding for the past 15 years, Nicholas says, "… now I have my own horse. It's really cool being a part of that community as well. I just love animals, they're just really cool."
 While Nicholas has been participating in both track and horseback riding her whole life, there is another sport she has been involved in during high school that differs from the rest. For the last two years, Nicholas has been a member of Girls Swim and Dive, and she has a story that stands out from most in the sport; Nicholas joined Swim and Dive her junior year without knowing how to swim. Obviously, this was a challenge for her, and something that differed from her typical experience in sports. 
"All the girls on the team had been swimming for like seven plus years. I was uncomfortable just swimming a lap of the pool", she explains.
English teacher and Assistant Coach of the girls Swim and Dive team, Annie Dalhke has coached the team in their 2022-2023 season. Of course, it being Nicholas' second year on the team, Dalhke didn't have first hand experience of working with Nicholas while she developed her ability to swim. However, Dalhke has noticed Nicholas' perseverance and willingness to work. Dalhke explains her noticings, "She actively worked with any feedback and tips from me or teammates about her technique… It was easy to support and motivate her due to those qualities."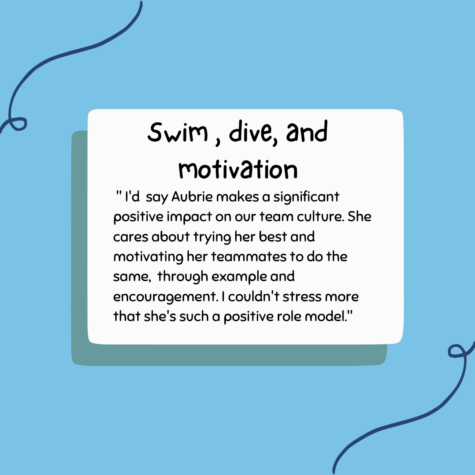 Dalhke adds, "I find it incredibly brave of her to have made the decision at all to swim, even more so at a competitive level."
Through all of the development of her skills, Nicholas continues to note her team as her support and her rationale behind her perseverance in the world of swim and dive, since she: "had the support of the people around me, and I really enjoyed being a part of the team aspect. It just helped me become a better swimmer."
Clubs and Organizations:
"I just really enjoy being a part of different clubs and sports, so I can be a part of different social groups at the school. I like having different connections, and being a part of different people. I enjoy not just having one group of friends. I like being a part of different things, and I think that has helped me become more social as well."
Undoubtedly, as high school comes to an end for her, Nicholas appreciates the connections she has made, and more importantly the memories those connections have left her with. Nicholas puts her reasoning for her diversity in different extracurriculars simply; everything she does outside of her academic life at Arvada West boils down to those connections and memories.
 As well as participating in a range of athletics, Nicholas had participated in Arvada West's American Sign Language Club (ASL), Spanish National Honors Society, and Link Crew. Not only have her teammates in Track and Cross Country, or in Swim and Dive has provided her with socialization and team relationships, but Nicholas agrees with the idea that the clubs she has been involved in have also played a role in developing her social connections.
Similarly to her passion for Swim and Dive, Nicholas joined the ASL club not knowing any sign language. In Swim, her teammates and coaches encourage the development of her skills in the sport. However, through all of her extracurriculars and specifically her part in the ASL club, Nicholas credits fellow classmate Kendra Greves as her motivation and inspiration to try different activities. Nicholas explains the impact Greves has had on her life and time in the ASL club, " …She's helped me join different things. She is the president of the ASL club.. She's also really social, and it's helped me understand that I can be a part of different groups not knowing their passon or what it's about."
In the 2023 school year, Nicholas joined Spanish Honors Society. She is in Spanish three, and this was one way that she grew the number of communities and connections she has made through high school. She says, "…I went to different social events for the club earning my hours… It also opened me up to new people in that group as well. I just love the Spanish community as well."
According to their official statement, Arvada West's Link Crew, "…is a freshman transition program that welcomes incoming freshmen and makes them feel comfortable and supported throughout the first year of their high school experience. Built on the belief that students can help students succeed, the Link program trains mentors from the junior and senior class to be Link Leaders…"
To Nicholas, her decision behind participating in Arvada West's Link Crew  is her own personal experience when she was beginning her freshman year, "I had my friend's older sister who was my Link Crew leader for the day. That really makes me want to show the freshman that there are good examples at the school and to have that positive impact.", she says.
  In Link Crew, Nicholas has participated in both her junior and senior year. She has also taken on further leadership in the organization by being a commissioner, or someone who is a point of contact for the rest of the students involved, so they ensure a smooth transition for the current freshman class.
Reflecting on High school:
Over the past four years, the world has seen quite an amount of change. Entering high school just for it to be interrupted by a global pandemic was certainly not on the checklist for the class of 2023. "With everything that happened in my highschool career with Covid, I wish I could tell my freshman self to just don't give up and to stick with the things you love", Nicholas shares.
Even though she has had a wide range of experiences and memories, Nicholas again goes back to freshman year, and how it has ultimately impacted her. In fact, the first day of freshman year is the moment she credits as the defining moment of her high school career. "I don't know if there's a particular highlight I have from all four years of high school. One thing I look back on, is probably my first day of freshman year. That really impacted the rest of my highschool career. Just having that warm welcome really helped me understand that highschool isn't that scary and that it is going to be ok."
 She adds upon her reflection of high school by stating, "I enjoyed highschool over my four years."
As that special day for the seniors of Arvada West nears, the possibility of Nicholas' future will soon transform into her reality. She will stand with a community, her community that has surrounded her for the past four years, and most importantly a community that she loves. Over the time that her connections have developed, it is clear that they are what is important to her. To her fellow graduates in the class of 2023, Nicholas states, " We're strong individuals, and being put through what we have been put through nothing can put us down!"
Surely, Nicholas will go out into the world and create her own unique experiences while building a foundation for the rest of her life. As far as her plans for after high school, Nicholas has committed to run track at MSU Denver. As she looks into the future, Nicholas says, "I'm just a little scared, because the future is untold. I'm excited to start a new chapter."
Leave a Comment
About the Contributor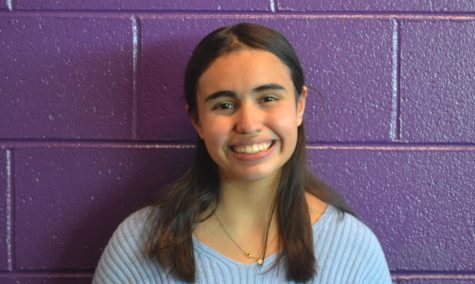 Chloe Rios, Staff
This is Chloe's first year in journalism. In her free time, she loves to do anything creative (painting's her favorite) and spend time with her friends....