Senior Spotlight: Penelope Dickerson
Arvada West Senior Penelope Dickerson reflects on her high school career while getting ready to open a new chapter in her life. Dickerson has done many things during her high school career: She participated in cheer all four years, was on the Dive and Golf team for two, and also participated in Honors and AP (advanced placement) classes.
Dickerson joined cheer her freshman year and originally started on JV (Junior Varsity), but halfway through her freshman season she was moved up to varsity and lettered all four years she was on the team. The biggest influences on Dickerson's high school career were her coaches, McKenna Biddle and Sabrina Dwyer. "I'd definitely say my coaches had a big influence because I spent so much time with them, they taught me a lot of life lessons and how to be a better person, and how to be successful on my own" Dickerson explains.
During Dickerson's Junior year, During Dickerson's Junior year, she joined two more teams: swim and golf She continued to do both throughout her junior and senior years but shortly after the golf season started she decided to make the difficult decision to quit the golf team so she could focus on the rest of her senior year.
Throughout her high school career, Dickerson took many AP and honors courses. In her freshman and sophomore year, she took Honors English, also in her sophomore year she took Spanish III, AP World History, and Geometry Honors. Continuing into her junior and senior year she took Spanish IV Honors, AP US History, Algebra II Honors, AP Language, AP Seminar, AP Stats, and AP Macroeconomics. This amount of advanced classes is impressive, especially with the commitments she had with cheer, dive, and golf. With multiple advanced classes, Dickerson had to learn how to balance her sports and her school. "Cheer was a big conflict because it just takes up so much time and so I had to learn time management and to prioritize some things over others" Dickerson adds.
Dickerson has big ambitions to be a traveling nurse. Dickerson is attending GCU (Grand Canyon University) this fall to study nursing. Looking back at her high school career, Dickerson recognizes that cheer had a big influence on her character, helping her decide what to do with her future. "Cheer has influenced my future plans a lot because its made me really outgoing and I just know that I like working with people and I want to do my best to help others"
Some students cannot wait to get out of high school, while others have found a home with Arvada West. In Dickerson's case, she's both excited to graduate and start a new chapter in her life, but also is going to miss aspects of her high school career. "The things I'll miss most in high school are probably all the relationships that I made, I have made a lot of friends, and I'm definitely going to miss them because I'm going out of state for college and I won't be here next year" Dickerson says. While the memories may last a lifetime, many more adventures lie ahead.
Leave a Comment
About the Contributor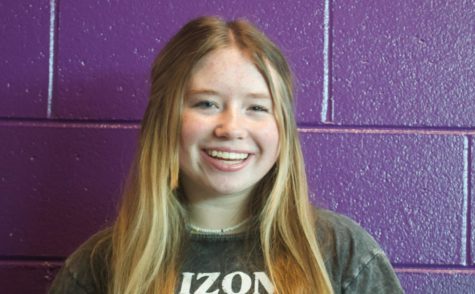 Etta Dyer, Staff
This is Etta Dyer, she is a freshman here at Arvada West and this is her first year as a part of The WestWind. Etta is a cheerleader and is excited to...