Taelyn Randall graduates with gratitude towards her school, Arvada West
Taelyn Randall is proud to say she is more than excited to leave high school and start a new chapter of her life. She is planning on becoming a kindergarten teacher and will be going to tertiary school to further this career choice. Her plan is to attend community college for 2 years and then transfer to a 4 year college for elementary education. She describes her senior year as eventful, memorable, and wild. Randall explains what she liked best about high school, sharing "I loved the bonds I have made and the school spirit. Getting involved in the little things made such a big impact and I've grown as a person overall so much." With Randall being on the Arvada West cheer team for three years she has been an impact and strong on school spirit. Randall lights up any room she walks into, and always brings an ear to ear smile. Many feel graduating is a big step in everyone's lives and there is much to miss when you leave for college. For Randall, she states "I will miss all my friends who will be moving out of state for college, and I'll miss the environment at games and assembly's the most". 
Throughout high school you accomplish something new every day. Randall is proud of her many accomplishments, but the ones that she's most proud of are continuing to keep good grades throughout high school and always being on track even through the hardest times. She says, "I've grown as a person overall so much, I always try to maintain a positive attitude and bring a smile everywhere I go" 
With all of the good and fun times in high school, there also come many challenges, for Randall some of those challenges came upon her during Covid-19. Overall, just trying to maintain a good mental space during the time, she started surrounding herself with good people, and getting out of the house when she could, as well as not falling behind in school so she could feel better about herself. Even though it was hard for her to stay happy when she spent a lot of time alone, she always found a way to know that she would get past the hard times and stay motivated. 
Throughout the years, there are people who have not only a big impact on you as a person but can change you as a person. They can have a good influence on you, or a bad one, but for Randall there's one person that has impacted her the most, and that's her best friend Brooklyn Corpron. She has driven Randall to be a better version of herself and never give up. Randall states " I admire Brooklyn so much and I appreciate the motivation she's had in my life." Along with Randall's biggest influence being her best friend, her coach also never gave up on her and helped her get to where she is today. Randall also mentions two teachers that impacted her during high school. Mr. Vais has helped her grow as a student and turned into a friend of hers in less than a year. He's made her feel excited to come to class and has always had such a good heart. Mr. Blair also had a big impact on her as he has been her coach, teacher, and friend for the last few years. He has always helped her in any given situation. She states that "He is definitely a teacher I can go to for help with anything." Randall further adds, "These teachers have affected me in my high school experience, since they made the environment so much brighter and made the bad days seem better."  
High school has changed Randall as a person, and mostly for the better. She likes the person she is now and the environment around her is so much enjoyable. She shares  that "Middle school was very hard for me and I didn't have many friends but in the last four years I've not only grown as a person but also created bonds that I wouldn't trade for the world. I've learned that if you are kind to everyone no matter the friend group they may be in, you'll realize you have so many good people surrounding you and that's the best part of high school to me."
She's also learned that if you are kind to everyone no matter the friend group they may be in, you'll realize you have many good people surrounding you. That's the best part of high school, at least in her opinion.
Randall wishes to share some parting advice for current high school students, stating,  "The best advice I could give is to get along with everyone and cherish every moment there is. Time flies by so fast and choosing kindness and love towards everyone is the best option. Always being a helping hand and being friends with those you never would think you would be friends with because I promise you, it impacts you in the long run so much. Be the bigger person and always know your worth."
Leave a Comment
About the Contributor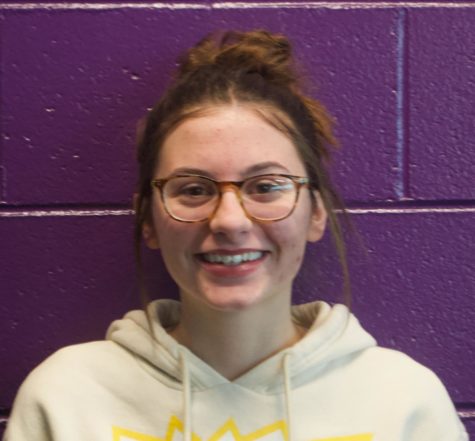 Alexia Levy, Staff
This is Alexia Levy, she is a sophomore at Arvada West High School and it is her first year in journalism. She is looking forward to writing and creating...