The Girls Flag Football Team, coached by head coach Mario Lopez, and assistant coach Ryan Walker, have been expanding on and redefining what it means to be a female in athletics at Arvada West. After the successes of their last season, the ladies of girls flag football are back, and more ready than ever for the season ahead of them.
"I'm really really excited!…We have a second team, and I hope everybody on that team enjoys playing just as much as my team does. I'm just really excited!", exclaims junior Molly Schellpeper. Schellpeper, is the wide receiver and defensive back on the girls varsity team, and last season, she was crowned M.V.P at Regionals.
 Last year, the girls made quite the storm, going undefeated up until the state championship. However, despite their hard earned achievements and successes of the prior season, the girls are striving for even higher this year. It all comes down to practice, practice, practice.
  Quarterback of the varsity team, Saylor Swanson, states areas where she would like to see the team improve from last season. "We got a little too comfortable. We couldn't just finish at the end. I think this year we just need to have better composure, and just trust in each other a little bit better. Know the playbook, know the routes really well, and I think we'll do good." 
   Schellpeper, wants to see improvement in her individual skills. She states how she wants to get better at the little things, and try out new things such as playing defense.
A typical day of practice is as follows: the girls will spend their time practicing from 4 p.m to 5:30 p.m. During this time, the group will split into two: Offense and Defense, to work on different route systems and plays. At the end, the two groups come together and 'scrimmage.'
"There is an opportunity in Flag Football to grow and if you learn the right way, get coached the right, and play hard you'll gain experience", Lopez comments.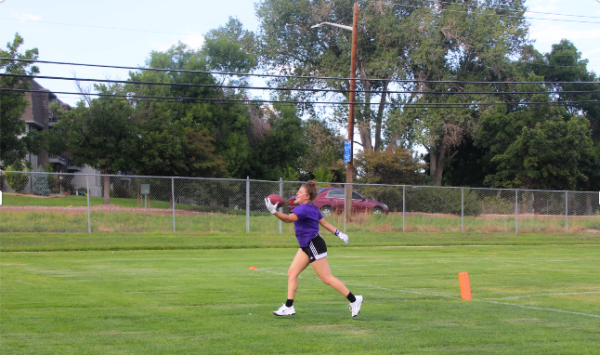 Of course, there is a lot of hard work that goes into the girl's practice time. However, their practice time is more than just work, it is an opportunity to build relationships that are essential to making their team successful, and those relationships turn their sport into so much more than just a game.
 " There's a lot of freshmen here, and I feel like we automatically, instantly connected. No matter what grade, we just connect. The energy is so high. We're having fun. We are doing what we love", says Schellpeper.
" I think everyone has a good relationship with each other. We all have good chemistry. It doesn't matter if you're a senior or a freshman. We all get along pretty well", varsity player Sara  Walker comments.
  Wide Receiver on the juniors varsity team (JV) Jaydn Mattern adds, " I played last year and love the community, so I came back."
 Between the hours of practice, hours of hard work, and hours of building relationships, the team has already seemed to see their hard work pay off. On August 23rd, A-West played against Pomona High School  in a scrimmage game. Both of A-West's teams took the victory with varsity winning 18-0, and JV winning with a score of 13-6.
While it is still early on, the team has had their first games of the season. On Saturday August 26, 2023, both varsity and JV played at Denver South High School. Varsity won with a score of 3-0, and JV also took victory with a score of 4-2.
However, it goes without saying that even with all of the success, there are still struggles that come with being a female athlete. Gender stereotypes oftentimes create an imbalance between female sports and male sports that impact the players. The girls of flag football can vouch for this, as they have experienced inequalities growing up in different athletics.
"I feel like people who watch females have a standard, and expect them not to perform as well, and not to be as athletic. I'm trying to get rid of that perspective, says varsity player Walker.
Swanson elaborates on Walker's statements and adds her observations , "I definitely think about the attendance. A lot of people go to boys sports more. Boys Football. Boys Basketball. Instagram game day posts, usually they post all the boys sports… I'd definitely like to see it be more equal."
Girls Flag Football is a sport that is growing in the Colorado community. According to Lopez, he has seen: "…a huge increase in women… It's insane how big this has gotten over the years."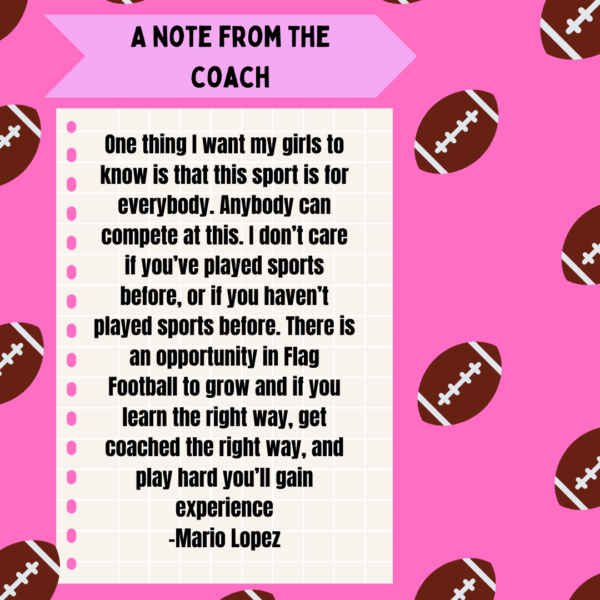 The girls of Flag Football at Arvada West have had a role in the growth of the sport in the local community.
 Recently, the team hosted a Youth camp, and Lopez says,".. . I was surprised at how many young women from second grade to eighth grade had experience. They had already played two or three years of flag football. So the future of this sport is pretty much growing through the youth right now."
Over the summer, a group of players was taken to compete at the Denver Broncos Regional Tournament, where they went against Chatfield Senior High School, the school that they lost to in the State Championship last year. According to Lopez this was a redemption and it was an opportunity: "to gain back that experience of the winning culture we have here."
It is evident how much hard work goes into the Girls Flag Football team at Arvada West. Their successes have been making an influential difference in the world of female high school athletics in Colorado, and they have been mentioned by news outlets such as the Arvada Press, The Denver Post, and CBS Colorado. For right now their plans for the future are to remain consistent with their successes, and to continue to develop their popularity. 
   "I hope that we continue to grow and get more attention, and that we continue to work harder, and that we almost be as popular as guys", says varsity player Walker.