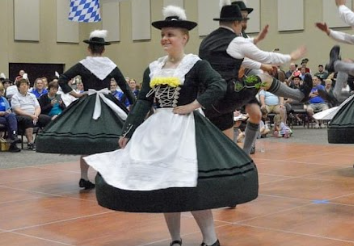 "More people should do fun things for them. My mental sanity is usually saved by dance practice because it's something fun that I like to do and has nothing to do with school. Like just doing the clubs here or getting into sports or marching band or music or something!" says Juliana Jenssen, Arvada West High School's only German dancer and math teacher.
Students of Jenssen likely know that most weekends she spends her time at the T.E.V. (Trachten Erhaltungs Verein) Edelweiss Klub located in Morrison, Colorado. The Klub was "founded in 1958 to preserve the customs and traditions of  Germany. The Klub also provides a means for German immigrants and German-Americans to gather and share in those traditions and further friendships between the United States and Germany." 
During the first week of school she told students about her love for German dancing. She continued to show photos of her brother and mom, who dance at the club with her as well, "Because we German dance, I see them every week at practice."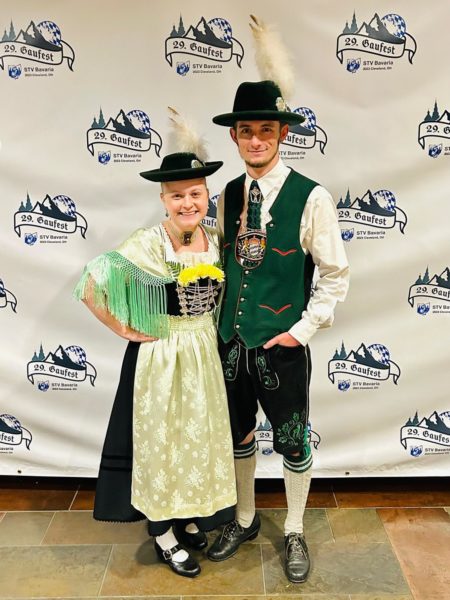 Over the summer Jenssen competed in Ohio with her brother and mom at the Gaufest competition, She placed 3rd overall in the 16-34 age group. While her mom placed 2nd in her respective group, "It's way more fun to do as a family. We got to travel a bunch of places as a kid that I don't think I would have gone if I wasn't German dancing."
Even now Jenssen gets to travel more because of her dancing. Since she placed top 3 in her age category at the Gaufest last year she gets to travel to Germany and compete there this coming summer. "It'll be the third time I've been for competing, I've been to Germany four times though," She says while speaking about her trip next summer. 
The Gaufest is a competition for German dancing that "is held every two years on odd-numbered years."(Gaufest 2022) People from across the world come to the largest assembly of its kind outside of  Germany and compete, Jenssen was one of the lucky last year to move on to the next competition.
While the news may just be getting out about her German dancing, Jenssen has been dancing for much longer. "I have been German Dancing since I was two…I think I was six days old the first time I went out there, but I couldn't actually dance til I was two," says Jenssen reflecting on her start.   
"It's always been fun. My whole family does it, so it's like a family thing. My grandparents came from Germany, so for them it was just a way to bond with other German people. Then for me, I've just loved dancing, I love the people, I love competing, all of it." 
Her mom, Terry, reflected on when Jenssen and her brother first started German dancing, "Juliana and her brother each were out at the German club before they were a week old and as soon as they were old enough to walk they were toddling around on the dancefloor 'dancing' to the music. Because their dad and I were so involved in the German club, we brought them with us. As they got older, they figured out the dance sequences and on their own inserted themselves in the line of dancers and went out on the dancefloor. It didn't matter if it was dance practice or a performance. They jumped right in." 
For many, staying dedicated to one thing can be a challenge but, Jenssen spoke about making the conscious choice to stay, " A lot of people, when they turn into teenagers in our group they're like, 'Oh that's not cool anymore' or they find new things or they get really busy, But I have to constantly make the choice to keep going," 
She never doubted that if she didn't show interest she would be forced to dance, "If I didn't like it my parents wouldn't have made me do it which is nice. But I just grew up literally German dancing." 
The form of German dancing that Jenssen participates in is called the Schuhplattler, In this dance the platterist (typically the man) will do a series of leaps and claps while the other partner (typically the woman) will twirl gracefully around until both partners join back up for a quick dance before separating again to continue. Since she started German dancing Jenssen has been the one to spin around, "I don't spot, people are always like, 'do you spot something?' But you're moving so you can't really spot anything… I used to play on the playground and if kids were being mean to me I'd be like 'I bet I can spin more than you!'"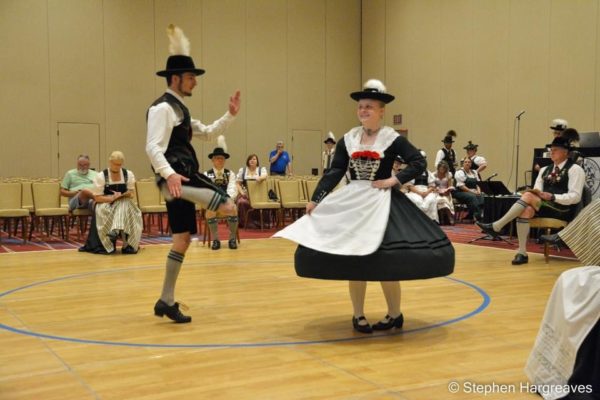 German dancing goes deeper than just a weekend activity, not only has it been a part of Jenssen's life since she was a kid but, she also says that teaching and running the kids group at her dance company she learned how to include different skill levels of different students, "My younger kids it was people in their 20s all the way down to 12. I had to figure out stuff to do that everybody could do and everybody could participate in." 
She also spoke about the engagement that she included in her group compared to the classroom, "The way that I had to engage them is how I have to do it in the classroom. There's some similar things, I like to keep it exciting and fun and engaging." 
When teaching and dancing aren't necessarily intertwined, Jenssen spends her time balancing the busy schedule between the two stating that, "The beginning of the school year is rough because, "It's rough in general for teachers to get to know kids. Then it's also rough just to balance school and dancing but because all the competitions happen in the summer, I never have to worry about that, which is nice." 
The work-life balance for Jenssen doesn't stop soon after school starts either, Oktoberfest, a two week festival which was originally hosted in Munich is now celebrated all over the world and being such a huge part of German culture is naturally celebrated by T.E.V. Edelweiss. Jenssen spoke about her schedule saying, "When there's competitions I could practice up to three times a week. During Oktoberfest season, which is right now, I'm usually busy on weekends doing Oktoberfest dancing and things. Sometimes I run them or sell stuff at them to fundraise." 
To Jenssen, family time is important especially since all of her family works very different jobs. Her brother builds parts for rocket ships while her mom budgets money for the state of Colorado and Jenssen is a math teacher so work-wise they wouldn't usually see each other but, Jenssen believes that dancing with each other has brought them closer, "Because we German dance, I see them every week at practice, I see them if we're having practice that week and we're dancing that Saturday. I'll see them twice a week and stuff like that."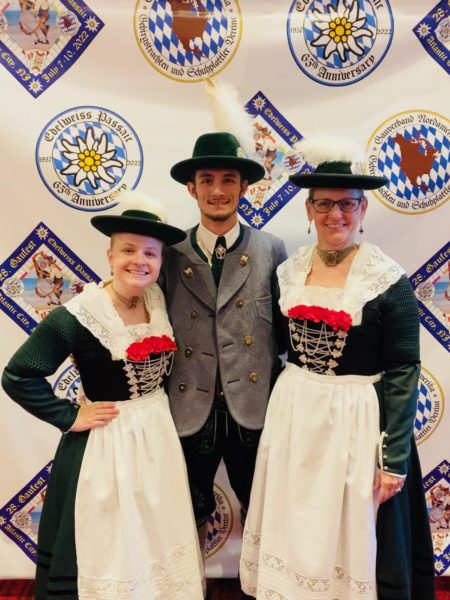 Her mom also says it's made them closer to one another, "Participating in German dancing at our German club has definitely brought us closer together. We've spent a ridiculous amount of time together—practicing, performing, competing, and traveling, and we did it all as a family."
In fact German dancing has brought Jenssen closer to her German heritage, When her grandparents came over from Germany they used German dancing as a way to connect with others. It even helped to bring her family together, "It's how my parents met." 
Whether she is German dancing or teaching in her Math class Jenssen tries her best to include everyone and tell her story. Her mom says she's proud of her daughter and how far she has come, stating, "She's an amazing performer, super skilled and makes dancing look effortless." For many Jenssen can serve as an example, whether it's to always try your hardest in everything you do or to keep doing what you love.