For the class of 2024, high school graduation is not too far away! One senior, Giovanni Panozzo, reflects on his high school career and involvement in Arvada West football and lacrosse.
  "It is mind blowing. It felt just like last week, I was just a freshman walking through these halls…," Panozzo exclaims while reflecting on his high school career.
Football:
For Panozzo, football has been a lifelong passion. It began for him in first grade when he played on his first flag football team. Afterwards in second grade, Panozzo began to play tackle football, and has continued playing ever since.
"Ever since I was young I've had a knack for it," he says.
When he began high school in the fall of 2020, Panozzo says that he had no expectations for football. Starting freshman year, he earned a spot in A-West's football program on junior varsity (JV).
 However, as time went on and his skills continued to progress, Panozzo's role in football advanced, and he obtained a spot on the varsity team as an offensive tackle player.
"I have grown many talents. When it came to high school, my talents really shot up," he explains.
He acknowledges his first game on varsity during his junior year, as the highlight of his time on the football team. He says, "it was a totally new experience…it's like I went from what felt like ten to a hundred right there that night. It was a lot of fun."
Regardless of which team Panozzo has been a part of through high school, his love for playing his favorite sport, football, has never changed. To him, he says the best part about playing is "the competitiveness and just the overall enjoyment you get…just the adrenaline you get from the sport."
Like all sports, there is more than just playing. Of course, it comes with a lot of hard work, but oftentimes it also comes with relationships with fellow teammates. To Panozzo, some of the best relationships he has (the one with his teammates), have developed over the past four years. Whether it has been their hangouts after practice, or getting in "extra meals before a game," Panozzo knows that what he has with his teammates is something worth cherishing. "It is always fun to be around those guys, and they make the sport fun itself," he exclaims.
Of course being a senior, it will be the end of four  years in football for Panozzo. Panozzo reflects on his feelings and says, "It's got me feeling kind of sad of course because it has been a great four years playing football."
While he feels bittersweet about his time on A-West's football program coming to an end, Panozzo is hopeful for the future of A-West football and says, "I want to leave the team better than it was last year…in a better standpoint as far as players and coaches…"
Lacrosse:
Football is one of the two sports Panozzo has been a part of during his time at A-West. In addition to football, Panozzo has been a part of Arvada West's lacrosse team, which has only been going on for a couple of years.
Before his time at A-West, Panozzo had never played lacrosse. In fact, Panozzo joined the team through one of his friends. He describes his beginning of his journey with lacrosse: "It was really my friend to be honest. Ever since he was young, that was his sport. He played lacrosse. He said, 'They are starting it this year. You should join,' and I was like 'Why not! Sounds like fun!'"
"I'm glad that I tried it," he states.
During lacrosse season, Panozzo says that a day-to-day practice is two hours long. In those two hours, the team will warm up before going to do individual practice based off of their roles. For Panozzo, his role on the team as a defensive long pole player requires his practice time being of footwork practices, before the whole team ends the night with a six versus six match.
Since the lacrosse team at  A-West has only been founded for a few years, Panozzo has been a part of establishing the program. To him, being a part of the beginning is "a big honor." 
Panozzo also credits starting the varsity team for lacrosse in the 2023 Spring season as his favorite memory during his time on the lacrosse team.
Reflection on high school:
 When he came to high school, Panozzo says he had no expectations. "I just kind of walked in and was like I'm just going to go year by year…I'm not expecting anything as far as football or just my academics."
 However as time went on Panozzo has proved to accelerate in his sports, as he is named a captain in both varsity football and lacrosse. To him, being a student athlete is something he considers as "a huge honor."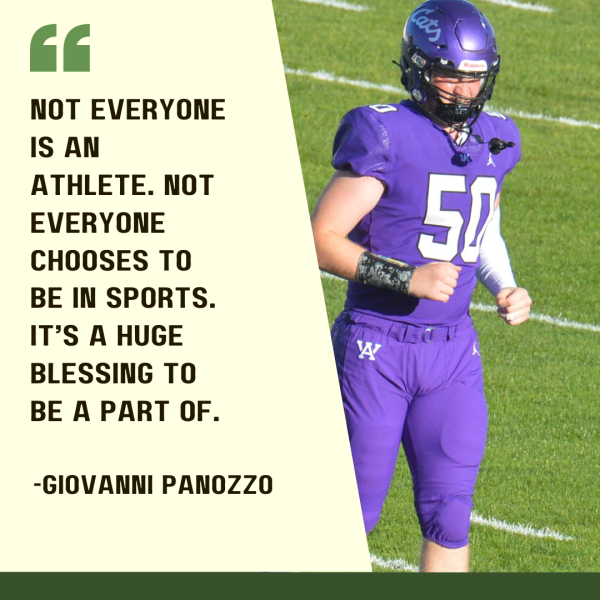 "I'm very blessed that I have my parents that allow me to do this… Not everyone is an athlete. Not everyone chooses to be in sports. It's a huge blessing to be a part of," he explains.
It can be stressful for students in high school to be able to balance their academics, extracurriculars, and life outside of school. For Panozzo, it has been a little challenging to maintain both his academics and extracurriculars. However, he isn't afraid of beating that challenge, so he can stay involved in what he loves to do.
 "It's always okay because I'm always willing to spend that extra hour instead of going to bed…I'm always okay getting that work done because to be honest if I can't get my school straightened out, then I can't play the sport. So it's okay to lose a couple of hours."
As far as academics go, Panozzo's favorite class through high school has been chemistry. Originally he never thought he would enjoy the subject, but he says that he enjoyed everything in the class from the content, to the teacher, to the people around him.
Panozzo is not short on appreciating the people around him that have guided him throughout his life. Through the years he has had a number of teachers that have helped develop him into the student he is today. However, he credits his mom, a preschool teacher, as his most impactful teacher. "She really taught me how to balance my life with football and academics and everything. She's been great!"
Likewise for Panozzo, his father has been a big lover and player of football, and because of that, he considers his dad to be his biggest role model. 
"…like me, he too has grown up with football and he even went to college for football. He's been my number one teacher for football, my number one coach, my number one for everything."
As graduation for the class of 2024 gets closer, Panozzo hopes the rest of his school year is fun and relaxed, so his stress levels can lower. For his fellow seniors, he wants them to know that "…life happens fast. Even though others will stay behind, it is always better to keep going forward with life."
 And Panozzo will keep going forward with life. After graduation, he has committed to the University of Wyoming for football.
Although he says he "loves Colorado," Panozzo is looking for a change in his life, and he believes that Wyoming is exactly the place for him to find that change. 
"I'm looking for new roads to drive, new people to meet. People like me. Wyoming is big blue collar, and that's what I'm all about, so yeah…I'm so excited about it."
Regardless of what he decides to do with his life after college, Panozzo wants to leave a positive impact on the world and those who know and love him. He explains, "I'm not one for the spotlight, so I would really want to be that person that my friends and family loved and would think about."
When all is said and done, Panozzo has evidently made his place in the culture of A-West athletics over the past four years. Clearly, he is destined for his own greatness.