While many think they understand the amount of work teachers do to provide the best possible learning experience for their students, few have actually experienced the continuous grind that educators face. "It's tiring, it's exhausting, because you're having to be on for students the entire time you're here" Karen Kramer shares. Despite this, she always manages to find the "beauty within the learning."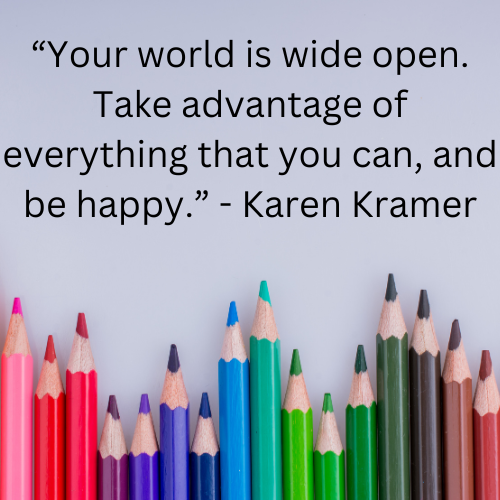 Kramer started on her teaching path at Arvada West in 1994, working as a student teacher. While she was immediately hooked, her start was far from ideal. "After 94' and then in the spring of 95', that whole next year I was a substitute, and I learned a lot" she shares. "It was not necessarily a fun experience, but a valuable experience in the learning of what I didn't want to do. I really learned I didn't want to do middle-school, I wanted to stick with high-school." 
As she gradually assimilated to her surroundings and built relationships, Kramer earned her first permanent position in 1996. She explains "The ninth graders in here needed another teacher because they were taking teachers from Oberon and Drake and they still needed to fill another spot, so I got that spot."
While Kramer "started with ninth and tenth grade," she quickly moved to ninth and eleventh, eventually settling at ninth and twelfth. While the different grades she taught changed, and rapidly at that, her initial goals stayed the same, with her inner motto being "How can I be the best at what I do?"
She started taking steps to realize her goals early, explaining how she "ended up pairing with two teachers that encouraged me." This was key, as "a world of self doubt" was often the mindset she found herself in. 
This doubt was highlighted when her friend and mentor, a fellow English teacher at Arvada West, informed Kramer that she needed to make the change to twelfth grade. She shares how her immediate response was, "I can't do that. They're bigger than me!" While she may have been "terrified," having the support of an experienced teacher enabled her to thrive. "You just follow me, and I'll help you through it," she recalls her friend saying. "I was very lucky that I found her, and I'm still very good friends with her."
As Kramer gained experience, she also gained valuable skills, sharing "I like to pride myself on thinking I do a thorough, good job at thinking of the outcome for students, what's best for that, and just constantly trying to better my craft and what I do." 
Despite this constant drive to "be viewed by students as a teacher who cares, and that I know my stuff, that I'm knowledgeable" change was coming, and it would vastly impact her career.
In 2003, Kramer's youngest son was born, at which point she took a two year leave of absence. After evaluating her options and spending those two years caring for her child, "I resigned my position after the two years, stayed home with the kids all that time" she explains.
In her time away, Kramer continued to build on her interests. "I really like to be home. I'm kind of a home body at heart. A great day for me is hanging out in the morning, walking my dog, hanging out in the yard, and just being home," Kramer elaborates.
While Pickleball hadn't yet piqued her interest at this time, Kramer still enjoyed playing tennis, which gave her a "strong background" for her newfound favorite racket sport.
Even with all of the activities that Kramer kept busy with in her free time, not to mention caring for a child, she still felt a familiar pull towards teaching, and when an opportunity popped up years later, she couldn't resist. 
Kramer explains, "In 2009 my friend Karen Allen, who was my mentor person, we had a writing center here at the time. She and I started the writing center before I had left and she kept it going." She continues, "She was really busy, and needed help on Mondays and Fridays. We talked with administration and I came in just two days a week, from the spring of 2009 until the fall of 2015."
At the time, "It was perfect because I could still get my kids off to school and then be home, so that was a good part-time job," Kramer explains. As with her earlier teaching career, things progressed quickly, as Kramer shares "in 2015 I was going to continue with the writing center and I got a call from Dr. Bishop, who was the principal at the time. He called and said 'hey, we have an opening. We need a teacher, we had a teacher who quit in English. Can you do it?' "
Despite her initial surprise, the wheels started to turn in Kramer's head as soon as she received the offer. At the time there was one week before teachers had to report back, so she took the next step and asked, "when do you need to know?" His answer: 'tomorrow by noon.' As soon as possible.' At this point, Kramer needed time to debrief and recuperate with her family, so she informed Robert Bishop that she was going to "talk this over with my family and see how this is going to go" and ended the call.
Her decision didn't take long. "The timing was good because my oldest son was going to be a freshman here, and my youngest was going to be over at Drake. The start times all kind of aligned to a certain degree" says Kramer. "I agreed, and I kind of had wanted to come back. Being in the writing center was like 'you know, I really feel like I could make an impact, I could be good again.'" 
As with her initial integration into Arvada West, her start was far from idyllic. Kramer recalls her first day, sharing, "I was going to quit then too, in October. I was like 'this is terrible, what have I done?' And Mr. Thompson, he goes 'Kramer, I can't believe you're coming back.' He's like, 'it's like riding a bike, except without a seat.' " She continues, "And it was, for first semester, it was rough. But I got comfortable again, and that spring, I was on a temporary contract, and in the spring we had an opening for a full time, continuing contract, so I interviewed for that and that's why I'm still here."
With the initial rough patch out of the way, Kramer found more time for outside of school activities, including an interest in Pickleball that has since become so much more.  
With her creation of the Arvada West Pickleball Club in 2019, Kramer immediately saw a positive impact on students and teachers alike. "What I see with them is learning not only pickleball skills, because it's not necessarily about pickleball, it's about connecting, connecting with each other, and meeting students that they have never met, and also the staff, since we've incorporated staff with it, it's added another interesting dynamic to it."
The positive impact extends back to Kramer as well, with her taking joy in "seeing kids have fun and learn and enjoy the improvement."
Barbara Redford, fellow pickleball player and Arvada West teacher, has nothing but praise to give to her pickleball club co-sponsor, sharing, "Mrs. Kramer has been great to work with. She's very organized but is also open to feedback and assistance." She adds, "I actually volunteered to help Mrs. Kramer with pickleball the year I started teaching at Arvada West and she was very receptive and willing to collaborate with a new partner."
In terms of what Redford takes away from Pickleball sessions, "Pickleball gives me something to look forward to on frantic, busy Mondays." This comes along with other benefits, as Redford explains, "it [Pickleball] has given me a way to meet other teachers outside of my department and make new friendships with people I wouldn't ordinarily interact with during my workday." This integral part of the club "is true for students too," she shares.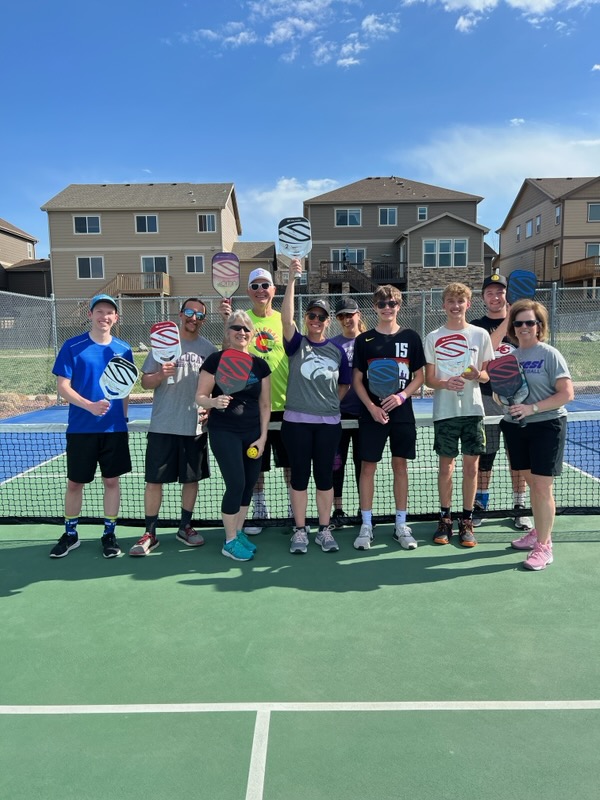 Despite her success with the Arvada West Pickleball Club, Kramer shares "Sometimes I don't know if I am doing anything right" and how "There's days I think 'they [students] didn't get a thing out of that' or 'I don't feel like I'm making a difference.' "
Even with this self doubt, Kramer explains that "When I have certain conversations with kids, sometimes you don't know how you've impacted kids until after you've had them." This thought allows her to center herself and reflect, and when she looks back, she sees that "What kids have said is that they enjoyed my class, that I made English fun, where it wasn't and is still not their favorite class, but it was still somewhat enjoyable to come in here and they still learned despite not loving English or being good at it." 
Kramer elaborates, "That's the environment I want to create in here: even if you don't like English, or you're not good at reading, or you don't think your good at reading and writing, I'm here to help you meet you where you are, and then try to get you to move forward."
She has continued to work towards building this positive environment, and part of that is being open with students. Kramer explains, "I'll ask them sometimes [students], 'Here's a lesson, should we keep it or toss it, or what would you change about it?' " 
She adds, "I think when teachers can ask students those types of questions and be okay with it, that's when you're at a mature teacher moment. You're not afraid of the criticism."
In terms of the personal work she has to do as a teacher, Kramer explains, "I would say we're all constantly evolving as teachers. I mean, we should be, so I think the difficult thing is sometimes kind of keeping pace with what's happening in our world."
Just as she has done with everything else in her career, Kramer has adapted to her ever-changing workload, learning to set boundaries. She shares, "When I first started teaching, and I don't know if new teachers feel this still, but I always felt like the expectation is you've got to go home and do three hours of homework and grading every night, and then I realized 'no, I don't really have to do that. I can just work smarter, not harder.' "  
The benefits of these boundaries were instantaneous, and Kramer has since had the realization that, "I'm a lot happier, I can give my family more attention, and I'm just relaxed."
As she reflects on how far she has come as a teacher and takes into account her past, present, and future, Kramer aims to share advice with Arvada West students, remarking "your world is wide open. Take advantage of everything that you can, and be happy."