"The Hunger Games" trilogy has high expectations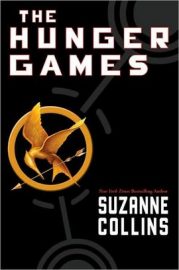 "The Hunger Games" franchise is at its peak in popularity. With the final trailer released, fans of the books and films are counted down the days until November 21st. But as the franchise begins to come to a close, could the film actually be better than the book?
Mockingjay was arguably the darkest book in the trilogy. This final installment follows Katniss for one final time, on her journey through war and a revolution against the Capitol. If that is not bad enough, she deals with post-traumatic stress, and her supposedly fake boyfriend Peeta being tortured in enemy territory, the Capitol. But many fans were disappointed in the finale to their favorite YA Series. On Goodreads.com, it barely had a four star rating, and many readers only gave it a 2-3 star rating. One reviewer said, "…even though there is a nicely packaged epilogue, I wanted more…EXPECTED more out of this final installment. I have to chalk this work up to "Twilight Syndrome"…gifted authors with an original page-turning first book, followed by hurried, increasingly poorly written and thought-out sequels." This last act for the trilogy just was not up to par for readers.
Obsessive readers crave an accurate adaptation of their favorite novel when it hits theaters. So when Catching Fire hit the silver screen, fans were anything but disappointed. Even the smallest details in the second installment were down to a T, from Peeta's double-knotted laces, to even the least important quotes. But, these intrigued readers are not quite sure if they want their least favorite book in the trilogy to be adapted into accurately disappointing film like it. Francis Lawrence, the second director for the franchise, talked about Mockingjay and how the story goes: "This is where the meaning of the entire series comes into play. The answer to why these books exist exists is Mockingjay, and that has really been exciting to me, that is been kind of what I've hung on to through these stories." He continued on to talk about how President Coin, the leader of District 13, comes more into play than in the book, and how he will expand the story. As at talented director, Francis Lawrence will make this film ten times better than the book. That is rare to hear, especially from a girl who reads for hours on end, and falls in love with characters that do not even exist.
Feelings of happiness, sadness, and anger have been replenished with the final trailer, with the tears of Peeta Mellark and the key line "If we burn, you burn with us" being important points in the book. But the emotion and amazing acting shown in the trailers, this could mean another Oscar for Jennifer Lawrence. However, the advertising for this film has not been very intense, considering there were only about six trailers, all of them barely a minute long. The fandom still keeps up though, which could help in the box office and help Lionsgate bring in more cash. And with 406k followers on Instagram, it is obvious that the film will be successful.
The book dealt with some battles, not very physical but emotional, and some sacrifices were made by beloved characters. Many readers thought this to be astounding, shocking even, of some of the decisions Suzanne Collins made, which made fans question what Collins was doing during the time of writing the final novel. But fans will be uplifted with the film and be satisfied unlike with the book. This film will be five star quality, maybe even Academy Award worthy! Fans will not be disappointed like they were with the literary finale that fell short.
Leave a Comment