Wish Week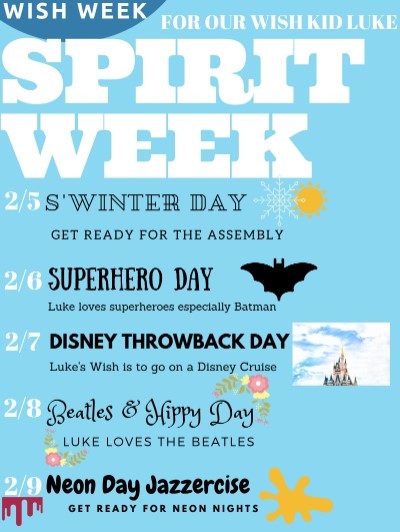 Luke's leukemia is something that he was diagnosed with in 2017, and Arvada West High School has found a way to support him.
Luke was diagnosed with leukemia on November 7, 2017. This still has not stopped him from doing the things he loves. On December 21, 2017 Luke's father organized a Go Fund Me account for all of his treatments and within 24 hours he raised $6,000. The next morning, after it was posted, Luke was very happy to know that people were out there for him. His parents wanted to take a picture of him to show the world that he was happy, but Luke did not really enjoy that. When his parents finally got a picture of him, they posted a comment on the Go Fund Me account saying how happy they were and what they were going to use the money for.
This year, at Arvada West High School, the school is supporting Luke with a dance called Neon Nights, which is a Sadie Hawkins dance; meaning this is a girls ask guys dance. The week leading up to this dance is called "Wish Week." High schools all across the country choose a person from the Make-A-Wish Foundation with a disease and they help that kid or person get to do the one thing in life they really wanted to do.
This year at Arvada West High School, Student Council chose Luke as their 'Wish Kid.' According to freshman Student Council representative Emma Borchers "All the money that we get from this dance is going to Luke to help with his leukemia."
Leading up to the dance, each day has something to do with Luke. On Monday, it is "S'winter Day", which is half summer half winter day because those are Luke's favorite seasons.
Then on Tuesday, it is "Superhero Day." Borchers said "Luke loves superheroes but his favorite superhero is Batman. Superheros is actually one of the reasons why he want to go on a Disney Cruise just to see all the superheroes and characters." 
Wednesday is "Disney Throwback Day," where students can wear whatever Disney character they wish to. Then it comes to Thursday where it is "Beatles and Hippie Day." Luke's favorite band to listen to is the Beatles.
Luke may have been diagnosed with leukemia but he still loves the things he loved before. He will never stop fighting and keep on going.
Leave a Comment