Bike club formed at A-West
There are about 30 clubs at this school, and one of them is the bike club. The bike club is a club that meets on some Wednesdays in Mr. Karlsson's room. The club is run by two juniors, Alan Barrios and Alex River. They have both been biking for awhile and noticed that there was no team or club, so they decided to start one near the end of last year.
River says, "I started it because I love mountain biking, and I saw there was not a team at A-West so I decided to start one."
This has been a club since the middle of last year, and there are only seven members. River says anyone can join, you do not even have to have a bike or any experience with a bike."
He says, "I do think that more people should join because I find mountain biking a lot of fun and I want other people to experience it too."
The bike club meets on most Wednesdays during office hours to see when everyone is free for a ride. He and Barrios then coordinate when they should ride and let the students in the club know.
River says, "I like to do the mountain biking club because I like to ride with other people and we can kind of compete to who can ride the most miles in one month. Also, just hanging out with people who have the same interests as me is really cool."
Barrios says, "I love mountain biking because it's very therapeutic, gets me closer to nature, keeps me in shape, and gives me the thrills every time I get on my mountain bike."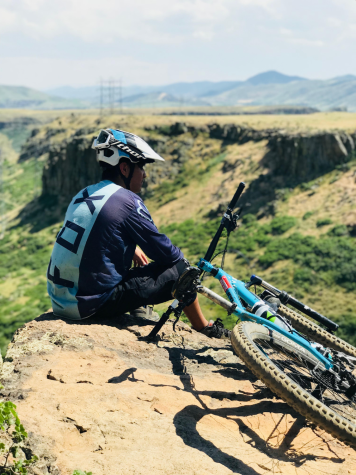 River says, "I like biking because it's fun and while you are having fun it's also really healthy and a good exercise. Also because I really like going outside and exploring."
According to Mountain Bike Rider, "Mountain biking is an excellent form of cardio work-out."
The site also says it helps build muscles, improve your lung health, help your joints, and has many other health benefits.
To join bike club, students can contact Alex River or Alan Barrios, or go to one of the meetings in Mr. Karlsson's room on select Wednesdays.
Leave a Comment