Trick Or Treat Street proved to be a hit at A-West
Swarms of eager families surrounded Arvada West High School last Thursday night on October 28th. A vast line stretched out from the end of the school clear out to the Walgreens nearby. For many, this was a success.
Families in the Arvada area had been looking forward to a Halloween extravaganza since the pandemic. There was a general buzz throughout the school. Announcements about donating candy sounded from the loudspeakers during advisement classes last week. On top of that, NHS members were required to bring 15 pounds of candy per member.
Members of National Honors Society (NHS) put in hard work preparing for Trick Or Treat Street (TOTS). Most of the NHS staff started arriving at the school at 3:00p.m. for setup. First, games such as candy toss were put together. STUCO (student council),  then helped decorate our school by putting up streamers and lights.
Junior Shaun Garret says,"The line is about two more hours long so we'll be here for another two hours."
Garret also talked about the stress of running games, "Running jenga, one of the people said it would be easy but it really hasn't. It has been quite hard actually."
A variety of teachers from A-West showed up early and brought their kids through for a "dry run." This prepared everyone for what ensued. NHS was predicting lots of foot traffic but much more than expected showed up. According to  Joanna Komitor, a teacher and (oversearer of NHS) , 2,410 people came through. The biggest turn out in the history of A-West!
Alex McDonald, a junior from A-West says, "I was shocked at how many people showed up since it was just a year since the pandemic."
Trick or Treat Street allowed for kids to grab candy and dress up as their favorite characters. 
Mcdonald says, "I was really excited, all of the little kids really enjoyed it so it was cool to see their little faces so happy and excited."
NHS members had to work in a major rush, which proved difficult for some. The night grew long.  The event was supposed to end at 7:00 but because of strong crowds, this event passed 7:30.Even at 7:30 p.m. the line still mounted. 
The school persevered through it all even when many grew weary. All to put on an event that our community will always remember.  Junior Josh Vander Lan describes, "My knees hurt a lot right now." Having to stand up and bend over for more than 3 hours does become straining but no one gave up.
Bryonna Mulvaney told the entire honors society how proud she was, "I still have all of the feelings after tonight! This was the Trick or Treat Street I remember going to as a kid, and I know that you all made a huge impact on all of the kids that came through tonight."
Overall TOTS was a night to remember. Kids fulfilled their Halloween dreams and the community had a safe place to enjoy the night. Without help from student volunteers this likely would have not been possible.
Leave a Comment
About the Contributor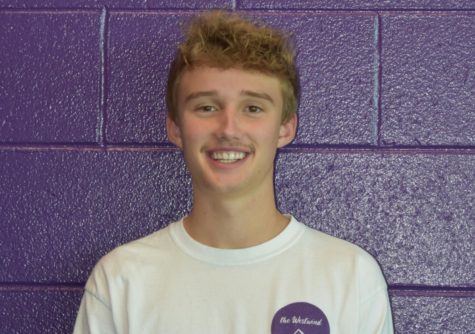 Riley Swanson, Editor in Chief
Riley Swanson is a senior this year at A-West. This is his fourth year participating in journalism. His favorite type of journalism is sports journalism,...