Upcoming spring swing dance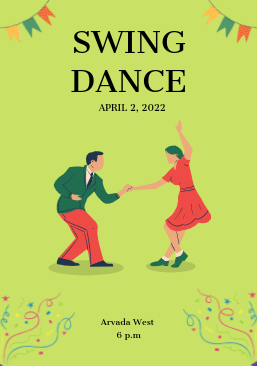 Arvada West's newest event is coming up in April. Here is everything to know before the event. 
This is a dance that will be taking place in the A-West commons on April 2, 2022, at 6 p.m. The admission price is undecided but is going to be in the 5 to 10 dollar range, although the teachers planning this dance are leaning more towards the 5 dollar range. Since this is a swing dance and not many people know how to upbeat dance, there will be lessons possibly an hour before the band starts and Vanlandingham will be there to help teach the art of swing dancing. 
"It'll be fun to teach the lesson and see a bunch of kids learning how [to swing dance]," Jesse Vanlandingham a performing arts teacher at A-West explains.  
Vanlandingham and the other teachers are planning on decorating the commons for this event, their decoration ideas are still not decided but they were thinking of making it look kind of like a casino, not a real casino but decorated like one. They also will need people to help with the decorations and running the stations for the auction. The Orchestra and Band [booster] parents are encouraged to help out, Vanlandingham thinks 6 to 10 booster parents will be enough, there was an email sent out to the booster parents asking if they could participate. There will also be a few student volunteers to help with the transition of things. 
With the auction, some students have been asked to bring in a couple of things for the baskets that will be available to auction off, each basket has a theme that a group of students has decided on, the themes go from skincare and cozy blankets to Anime and Spongebob so there will be a wide variety of themed baskets to choose from.  The price of each basket is also undecided but once all of the baskets are made and the supplies for each basket are in place, they will then decide on the price. The less nice baskets will start around 15 dollars while nicer baskets will start around 30 to 40 dollars each and the price will continue to go up depending on who wants that basket more.  
When it comes to fun decorations, learning fun new dances, and buying fun baskets with some cool collectibles the swing dance is the place to want to be on April 2nd at 6 p.m. All of the performing arts teachers are excited to see the turnout.
Leave a Comment
About the Contributor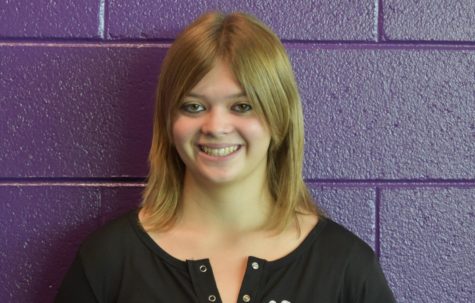 Natasha Doty, Copy Editor
This is Natasha's second year in Journalism. She is a sophomore and is very interested in art, music, and writing. She joined this class due to her liking...