The class of 2022 going out with a POP!
When students walked into A-West high school on Thursday, April 28th, they were surprised to see that the seniors had been up late the night before, working on the senior prank. The main office was chock full of balloons, forcing administrators to wade their way through a colorful sea rising to hip level to get to their desks. 
The cat walk connecting the North and West wings was covered in caution tape with balloons coating the floor, and there was a ring of chairs in the commons wrapped in plastic and similarly filled with balloons. 
However, the latter two presented health and safety risks so the janitors and administration worked quickly to disassemble them before a majority of the students showed up. Yet they allowed the balloons in the office to float around for the day, bringing smiles to everyone who walked in. 
Jana Thorne says she felt "very happy" when she walked in claiming "this is awesome" and "a senior prank at it's finest"
Similarly Kelly Granfield said she "thought it was hilarious, it's supper funny, it's very colorful, it's perfect for beach day. I think it's great." 
The prank was wonderfully executed and received very well throughout the whole school, bringing praise to Student Council and Senior Class President Veronica Vessa. Given this was the first senior prank in a few years, Vessa worked hard and acquired a lot of help to assure it went as well as it did.
Vessa said the idea came from Stuco as a whole and settled on balloons as a fun, harm free prank that could feasibly be pulled off and most importantly get principal Geree Santarelli to approve. 
Vessa explains the logistics behind the prank, "I used the senior instagram and I had kids who don't have instagram fill out a form with their email address so I just maily communicated via the instagram and I made a private story with all the seniors on it and just tried to spread the word as much as possible." 
Given all this preparation and communication Vessa reflects  "I thought it went really well I did not expect that many people to show up with balloons, I was like oh my gosh this is crazy. I loved that admin got a kick out it and I was really glad it wasn't something that made them mad, I was glad it was something they could laugh about for the rest of the day and enjoy"
As the end of the year draws to a close it's safe to say that the senior class is going out with a POP!
Leave a Comment
About the Contributor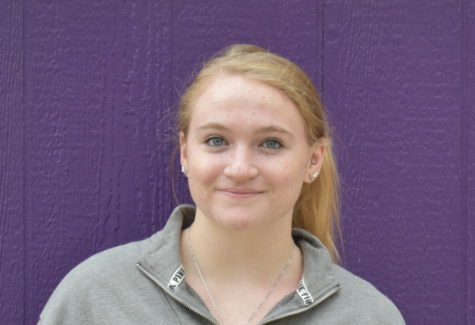 Jessica Hickey, News and Review Editor
Jess is a senior at Arvada West and is a captain of the cheer team, the secretary of the debate team, and is involved in Purple Prose (the literary magazine),...