Arvada West to start 15 minutes later for 2023-2024 school year
Jefferson County has announced a new initiative, titled
Healthy & Equitable Start & End Times
, which will push back start times for Middle and High Schools.
A new year, new start times. This seems to be the thought process of Jefferson County, as they have put into place schedule changes that will push back start times in middle and high schools for the 2023-24 school year. These changes will result in Jefferson County schools starting anywhere from 15-30 minutes later, with end times also being changed to later in the day. 
According to Jefferson County, "The District's goal is to align start and end times across all Jeffco schools to create consistency for our schools." Currently, start and end times vary from school to school, resulting in unequal hours of learning for different students. Jeffco is hoping to close this gap by moving start and end times for next year.
Jefferson County also included "Research shows that healthy school start times (later start times for middle and high school students) result in improved student attendance and graduation rates, more students arriving at school on time, and better overall physical and emotional health."

This statement is backed by U.S News, which published an article on four benefits of later school start times, including better mental and physical health, improved academic outcomes, and less tardiness, among other things.
Additionally, in an interview with The Guardian, Beth Ann Malow, a neurologist and sleep expert at Vanderbilt University Medical Center, states "When kids get more sleep, they're healthier. They're more alert at school. Both their physical health, including their weight, their risk for diabetes, as well as their mental health, how they feel emotionally – all that improves when they're getting more sleep."
With all the positive research surrounding later start times, it seems like the future of school schedules are changing, and for the better.
However, the big question is: what does all this mean for Arvada West students? Well, A-West will start fifteen minutes later, at 8:15, and end…30 minutes later, at 3:30. Hold on a minute, you say?
Principal Geree Santarelli clears things up, explaining that in terms of the extra 15 minutes, Arvada West "will add 5 minutes to lunch time and the rest of the time will be used in instructional time." Additionally, Santarelli states, "It is always beneficial to have more time for instruction" and that she "hopes we can continue to have students achieve their goals with the additional time."
However, Clark Grose, a science teacher at Arvada West, has different opinions than those of the principal.
"I don't think fifteen minutes does a thing" Grose states. "There was talk before about starting at 9:00, and if you're going to start that late in the day then I think that makes a difference, but with this small a change it doesn't make a difference one way or the other."
While the new schedule doesn't have a positive impact for some, for others, it has a negative one.
Grose, a soccer referee, explains "It affects me at the end of the day because I have commitments after school. I ref soccer games, and a lot of them start at 4:00, and I ref all around the Metro area, so this is going to limit the number of places I can go." 
This is frustrating for him, but he recognizes that he isn't the only one affected. "I know of two or three kids in my geology class who have jobs that start at 3:30, and how they're going to manage that I don't know. I think it's really going to affect them a lot."
The impacts of the new schedule changes will be felt school-wide, but whether they are mostly beneficial or damaging remains to be seen. 
All in all, while students and teachers alike may embrace these extra 900 seconds with open arms, the district's precious added minutes may also fall to the wayside, overshadowed by later end times. Only time will tell.
Leave a Comment
About the Contributor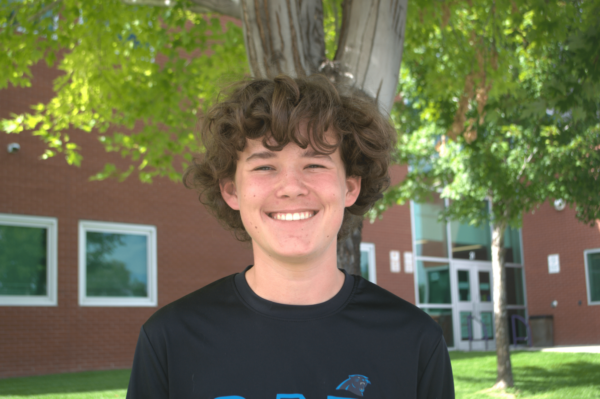 Madeus Frandina, Reporter
Madeus Frandina is a Sophomore at A-West who loves anything involving literature and plays soccer. A second-year staff member, Madeus currently serves...