Jefferson County School District has no place regulating non-school sanctioned events
Imagine this, it's your senior year of high school, COVID-19 has demolished all school events for the fall semester, except for Senior Sunrise at Red Rocks. For the 2021 senior class, this is very much reality. On Friday the 10 of September, the senior class met at Red Rocks Amphitheater to celebrate the beginning of their senior year. The one catch to this event is that it was not school sanctioned, yet the night before the event, each senior parent received an email from Geree Santarelli, the principal of A-West, stating that seniors should not attend the event. 
Senior Sunrise was organized by a group of seniors in an effort to provide a sense of normalcy to the traditions that come with senior year. The posters that were put out on social media announcing the event stated clearly at the bottom, "Not affiliated with Arvada West High School." 
This gave many students a reason to feel angered after they had received an email from Santarelli the night before the event suggesting that seniors not attend. 
In the top paragraph of the email, Santarelli ends with, "While this is not sanctioned by the school, I feel the need to ask you to reconsider if you plan on attending." 
This frustrated many students in the senior class since Santarelli recognized that this event was not school sanctioned, yet the school seemed to be demonstrating a clear intent in asking seniors not to attend. 
Offering his opinion on the email, Senior Zach Tyson reasons, "It was hypocritical of Santarelli to try and stop an outside event since we are technically more at risk when inside of the school." 
Tyson describes how students are generally more at risk inside a building with no air flow compared to an outdoor amphitheater with continuous air flow.  
Senior Haley Mortimer expressed her emotions about Santarelli's email as well: "I feel that she should understand that with the circumstances, the seniors are getting robbed of a normal senior year and are going to do anything that we possibly can, myself included." 
Mortimer represents many other seniors' feelings in response to Santarelli's email. This is due to the fact that this year's senior class has already been deprived of the traditional senior year traditions, yet they are still facing regulation from A-West High School on an event that was not affiliated with it.. 
Even after the email was sent, most of the senior class still attended the Senior Sunrise on the 10. Most seniors were wearing masks and social distanced within their group of friends. 
Overall, the class of 2021 was able to still experience a sense of senior year traditions following Santarelli's email. As her email may have angered or frustrated some in the senior class, it has become apparent that Santarelli sent the email out of obligation from the district. 
Santarelli emphasizes that the district tries to mitigate health concerns, and since someone filed a complaint with the Jeffco Board of Health about this event, "their (Jeffco School District) mitigation, was I would send an email to parents saying 'Hey, we know this isn't a school event, but this could jeopardize kids coming to school.'" 
Sanrarelli also acknowledged that she felt like she was "overstepping" in terms of sending the email out to parents. 
As many A-West seniors may feel a sense of frustration towards Santarelli for sending out the email, these feelings seemed to have been misdirected since it was the Superintendent of Secondary Schools who made the request for Santarelli to send out her email. 
All in all, regardless of  the circumstances of the email, Jefferson County School District does not have a place in addressing or regulating a non-school sanctioned event, however,  the senior class is currently trying to soak up what they can get out of traditional senior year activities.
Leave a Comment
About the Contributor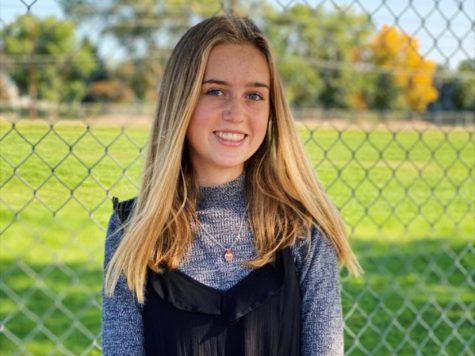 Amelie Bauer, Editor in Chief
Amelie Bauer is a senior at A-West who enjoys running, mountain biking, and spending time with friends and family in her free time.