Trump's actions leave him on the wrong side of history
Recent events have stirred up democracy, leaving the Constitution of the United States hanging by a thread. In the revolting episode of January 6, President Donald J. Trump invited his supporters to interrupt the ratification of the electoral college- an effort to undercut democracy on Capitol grounds. Those who chose to stand against Trump's temper tantrum will be written as honorable, but the rest- rioters, supporters, extremists- will be written as power-hungry insurrectionists.
Despite the challenges of January 6, Congress was able to reconvene later that night. Senators, both Republican and Democrat, stood up for the Constitution of the United States. 
Senator Kelly Loeffler of Georgia previously planned to object to Arizona's votes, but she changed her mind saying, "The violence, the lawlessness, and siege of the halls of Congress are abhorrent and stand as a direct attack on what my objection was intended to protect, the sanctity of the American democratic process." 
Regardless of political party, protecting democracy will always be a top priority. Loeffler proved that negative actions need consequences even if it means disagreeing with a President that she once greatly supported. 
After a year like 2020, America is used to political instability, but it is clear that this historical day caught the attention of students at A-West. In a poll asking students if they felt someone wrote themselves onto the wrong side of history, 100% agreed saying yes. Most everyone said Trump and the rioters were completely in the wrong. 
Junior Geneva Pauly felt that the riot was, "Completely barbaric and so disrespectful no matter who you support." 
Pointing out that this "protest" was not a matter of political views, but of moral beliefs. 
Junior Emma Ha expressed, "It was a dangerous act against America's democracy." 
On the bright side, the Constitution was clearly supported Wednesday night when all but six Republican senators voted no on the objection to Arizona. Politicians stood for what was right rather than what their supporters wanted to see, or frankly what Trump wanted to see.
However, there should have been an overwhelming "no" on the objection to Arizona's certification due to the outrageous riot that had occurred. 
The senators who continued to show support for President Trump failed to understand the importance of the night. They truly missed out on a historic moment, and will forever be written as men who feared for their reputations, and men who supported the President's effort to overturn the election results. 
A-West students recognized the importance of the night as well with 50% saying they watched the senate discussion after they reconvened. 
Senior Solomon Barnes elaborated on his takeaway from watching the senate, "I feel like there was some sense of unity, but sadly it's too late to fix in my opinion," He continued, "Even a tragedy like storming the Capitol couldn't unite everyone in America. I felt like it was too late to go back to a sense of unity because of all the hatred spewed in the last four years."
It is clear that the act of insurrection could have been prevented. Five lives could have been saved, injuries could have been prevented, and Congress could have resumed as normal. It took the storming of the Capitol for the majority of the Congress to see Trump's true colors.
Better late than never.
President Trump's actions on January 6 will forever overshadow anything he did during his four years of presidency. Trump will be remembered as the only sitting president to provoke a coup. As a president, his job should have been to do what is best for the people, rather than for himself. He should have been a promoter for good. This isn't about political views, this is about a man who failed to lead a country. A man who ignited a flame of lies. A man who wrote himself on the wrong side of history. 
Leave a Comment
About the Contributor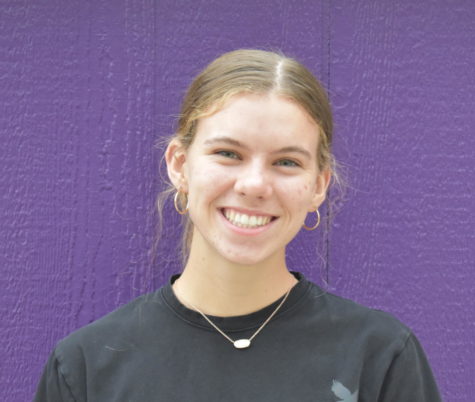 Alex Larson, Editor-In-Chief
Alex Larson is a senior at A-West this year. She enjoys running, singing, writing and playing piano. Her favorite type of story to write is an op-ed, because...