6 books you should definitely read this year
With popular movies and shows abundant, literature is often overshadowed. Here are some books that mustn't escape your attention in 2023.
Read a good story lately? Or two? And no, assigned reading doesn't count. If not, don't worry; 2023 provides many opportunities for a fresh start. Adding these 6 books to your reading list is one way to begin the new year in a positive way.
1.
National Team
: The Inside Story of the Women Who Changed Soccer
by Caitlin Murray.

"A fantastic story about perseverance, overcoming obstacles, and following your passion in life" according to Landon Donovan, The National Team pays tribute to the best women's soccer team in the world while also telling a story of resilience, passion, and hope. Freelance sports journalist Caitlin Murray displays how the U.S Women's National Team has continued to overcome mountains of adversity on their path to becoming a powerhouse in women's soccer. Murray also chronicles the team's fight for equality on and off the field, encapsulating the story of the women who changed soccer.

The first book of three in the Legendborn series and winner of the Coretta Scott King/John Steptoe Award for New Talent, Legendborn follows 16 year old Brianna's (Bree's) journey through a residential program for bright high school students at UNC-Chapel Hill. While still coping with grief from a heartbreaking loss, everything Bree thought she knew is upended when she witnesses a magical attack in the woods. Arthurian legend reimagined, Legendborn details Brianna's quest to find herself (and her roots) while battling racism and discrimination in the South. Sure to keep you questioning and re-evaluating, Legendborn is truly magical.

A masterclass in accurate yet innovative storytelling, James L. Swanson draws on a deep well of research to tell a riveting tale of the wild hunt for John Wilkes Booth after Abraham Lincoln's assassination. From Washington D.C to Maryland to Virginia, Chasing Lincoln's Killer follows Booth's attempt to escape capture and find protection behind confederate lines while identifying the friends, foes, and acquaintances he makes along the way. A documentation as well as a narrative, Chasing Lincoln's Killer is a must read for history buffs, common readers, and everyone in between.
4.
Scythe
by Neal Shusterman.

Thou shalt kill. While they may not seem like much, these three words set the tone for the genius of Scythe, a spectacular book and winner of the Michael L. Printz award. Set in the far future, Neal Shusterman's creation is a world in which humanity has conquered death, achieved peace, and eliminated corruption. Or has it? Enter scythe's, who are given the task of ending life, or gleaning, to keep Earth's population in check. Citra and Rowan, two high schoolers, never fathomed taking on this role; however, when they are selected as apprentices to a scythe, they are forced to learn the art of gleaning, and quickly. As Citra and Rowan's paths become woven together and politics, greed, and power come into play, Scythe evolves into a page turner that will keep you hooked until the very last page.
5.
Loot
by Jude Watson.

Described as "Pure delight – a super-smart, funny, and exciting ride" by New York Times bestselling author and Newberry award winner Rebecca Stead, Loot is a tremendously clever book that is full of twists and turns. Centered around March McQuin, son of notorious cat burglar Alfie McQuin, the story begins with the latter's untimely demise and only gets more intriguing from there. Alfie's last words to March send him on a quest to reunite with his twin sister, but when hijinks and close-calls ensue, a plan forms to pull off a heist that will guarantee them (and a couple of friends they pick up along the way) the life of their dreams. Be warned; Loot is a guarantee to keep you on the edge of your seat!

A heartbreaking yet beautiful tale of love, loss, and life, The Fault In Our Stars follows Hazel Grace Lancaster, a 16 year old who was diagnosed with thyroid cancer that has since spread to her lungs. A medical miracle has bought her a few years, but Hazel has resigned herself to solitude, knowing her story is predetermined, destined to be cut short by cancer. That is until 17 year old Augustus Waters appears one day in Cancer Kid Support Group and shakes everything up. Possibly one of the most insightful books you will ever read, The Fault In Our Stars will make you laugh, cry, and look deep inside yourself.
All in all, reading is an important and fulfilling activity, and while some of these recommendations aren't for everybody, hopefully a couple will be enjoyable (or at least readable).
Leave a Comment
About the Contributor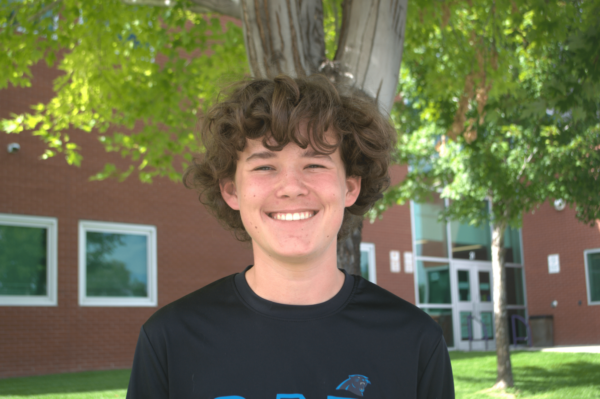 Madeus Frandina, Reporter
Madeus Frandina is a Sophomore at A-West who loves anything involving literature and plays soccer. A second-year staff member, Madeus currently serves...