National Signing Day at Arvada West
Twenty-one senior athletes at Arvada West signed letters of intent to play collegiate-level sports on National Signing Day. Sports ranged from women's tennis to football, and the colleges where athletes signed include a D1 school–Colorado State University in Fort Collins–and several D2 and D3 schools across the nation.
Seven athletes signed at schools in Colorado and six signed at schools in Nebraska. Four Arvada West athletes signed at Nebraska Wesleyan University in Lincoln, Nebraska.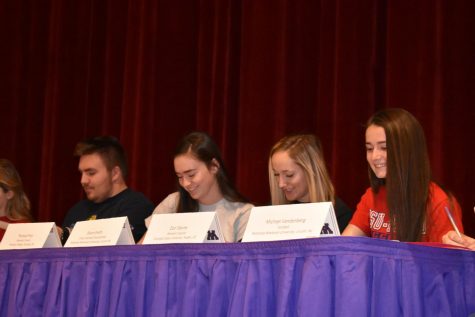 "It's amazing that we have this many kids [signing]," said Arvada West Athletic Director Casey Coons. He advised athletes to "go on and carry the flag for A-West."
Ella McShane, who signed for women's swim at Chapman University in Orange, California said she is "most excited about having new teammates and being in a new environment." McShane is planning on majoring in molecular biology.  
Theresa Price signed for women's tennis at Hastings College in Hastings, Nebraska. Price is also looking forward to meeting her new teammates.
"I'm so excited to travel all over the place to play tennis," said Price.
Kicker Michael Vandenberg signed to play football at Nebraska Wesleyan University. Vandenberg plans to study criminal justice. He is looking forward to "four years more of the sport I love."
Check out this infographic to see more details about these signees and others.
Leave a Comment