A Perspective on High School Swimming in the Covid Crisis
    The COVID 19 pandemic has caused disruption in many people's lives. High School athletes in particular in Colorado are having to adapt in unique ways to prepare themselves for next year's athletics season. Hannah Bettmann, a junior, is a high school swimmer on the Foothills Swim Club Team in Littleton and also a Varsity letterman on Chatfield's Senior High swim team. Fortunately, social distancing only affected Bettmann's high school swim season in that Hannah was not able to attend her end of season championship meets.  
For high school, her high school coach reached out to students with leadership opportunities this offseason. Bettmann's high school coach tells them to stay in shape but can't give the team too many guidelines about how they should train. Bettmann does like talking and connecting with her teammates who are also her friends. Again, in the offseason, high school teams are not allowed to train with coaches for liability reasons.
Bettmann swims year-round for the Foothills Club team, which typically trains almost every day. The coronavirus has affected pool time and training. Her club coaches share ideas and ways to train. "For club swimming, it's a little bit different since it's all year round, so social distancing is really taking a toll on your training."  For the few swimmers who have access to a pool, Bettmann's coach expects them to swim a few hours each day. Not everyone has access to pools. "Dryland" training means exercising and conditioning outside the pool. 
Club coaches suggest workouts online such as USA swimming workouts, running, biking, or hiking.  Many athletes just like Bettmann don't have access to a pool, gym, or weight room.  As community rec centers and swim centers start to open, swimmers will soon have access to both the pools and weight rooms again.  Many schools, teams, and businesses are also using Zoom to connect with one another. Coaches can demonstrate workouts and stretches via Zoom. 
"Athletes like to have some sort of structure like Google Classroom where they can look at and meet agendas." Bettmann has learned to stay in shape without physically swimming. Bettmann puts in several hours of training in a week. It may be challenging for athletes to stay motivated. "Every morning I try to stick to a routine and stay focused. I get up, make a good breakfast, and get my homework done as fast as I can, so I have more time to be outside and train." She often takes bike rides with her mom. 
Hopefully, pools will soon open so swimmers will get back to up pace. We don't know how this crisis will affect the next season and personal swim event times.  Bettmann shares a positive, "I get to spend time with my family, and my whole day isn't taken away from me with school work and swimming." Athletes are finding ways to stay positive and grateful. This gives them opportunities to try things and to have self-discipline. The sky's the limit for these athletes next school year.
Leave a Comment
About the Contributor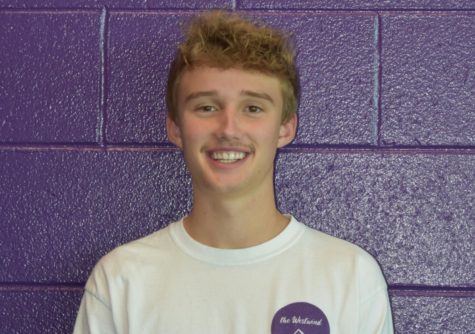 Riley Swanson, Editor in Chief
Riley Swanson is a senior this year at A-West. This is his fourth year participating in journalism. His favorite type of journalism is sports journalism,...