Track season preview
It is finally spring and the track season is ramping up. The first meet is coming up soon and the athletes are getting prepared for a full season, hopefully, free of covid. 
With the Jeffco Qualifier coming up on Wednesday, March 30th, A-West student-athletes are starting their season preparations. The weather is warming up which makes for perfect conditions for practices and outdoor activities.
Junior track athlete Newland Schulte has been preparing for this season for months, "I have been running around my neighborhood a couple of times or in the park for out of season practice."
These high school athletes are excited to see if their hard off-season work will pay off. 
Schulte is already seeing the training pay off; "I feel like I am getting just a little bit stronger in my cardio when I'm running."
Not only has the preparation for the season finally ended but the runner's are also setting goals for themselves.
Senior runner Teagan Tucker says that she hopes to, "PR in  the 400 and 800 as well as getting closer with the team."
The hope being that each athlete is able to reach their highest potential this track season. There is so much that goes into becoming a track athlete. They have to put in thousands of hours over the course of the off-season just to be physically fit to compete. There is so much that goes into track.
Different events call for different techniques. Sprint distances are about pure power and speed. While you'll need some cardio endurance, it's more about getting around the track as fast as possible. For mid distance races you need the speed of a sprinter combined with the aerobic capacity of a distance runner. Lastly long-distance races require endurance, and according to the wired runner, long-distance runners have to get used to running amongst a pack of runners while hopefully being able to out-kick the others in the last lap.
With all of the work and training that our running wildcats have put in, fan turnout would be greatly appreciated.
Tucker says, "It's always more fun to play in front of fans, we put a lot of time and effort into training for our races and we want people to see our hard work pay off."
High-school fandom plays a big role in building up communities. According to Superfan, "The most successful sports teams and brands in the world have created unique cultures that their fans can adopt as their own." 
These cultures produce strong, loyal communities. The more people that show up for a track meet, the better the experience both sides will enjoy. Hence the reason why it's important to create an environment in which all sports draw support from the Arvada West community. 
The A-West track team is truly eager to see an increase in fan engagement this year. Tucker says, "It would mean a lot to us and be really fun to have a student section at our races. It feels like sports like cross country and track get overlooked a lot so it would be really cool to have support from the rest of our school."
Schulte also believes change is in the air, "I think the fan attendance will be just a little more that last year depending on the pandemic, there should be a pretty big margin of people in the crowd this year."
There is good reason for an increase in fan turnout this year. Max Preps shows that the Wildcats placed 4th in the Jeffco qualifier and 3rd in the Ralston Valley invitational in 2021. This track team has a great resume to build off of in 2022.
This group truly has so much potential this year. Providing the spark that many high school fans are looking for when choosing an event to watch. That being said, we should be seeing extreme talent matched with unparalleled support from the A-West community. The sky's the limit for these runnin' cats.
Leave a Comment
About the Contributor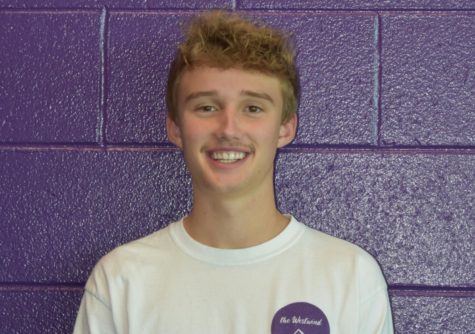 Riley Swanson, Editor in Chief
Riley Swanson is a senior this year at A-West. This is his fourth year participating in journalism. His favorite type of journalism is sports journalism,...