Food Drive Story
All of the food people give goes to the emancipated and homeless students of Jeffco ranging from kindergarteners all the to seniors. 
   A-West food drive is helping the community's homeless. There are many ways NHS is helping get the word out for the grub club food drive. Mrs. Dryer says, "Grub club has done every year, for as long as I have taught which is 12 years." 
   To make things more interesting Mrs. Dryer says, "Mr. Gallup and I have this big competition  where we battle it out."
   Mrs. Dryer and Mr. Gallup are fellow English teachers for Juniors here at A-West. "I have 253 cans and Mr. Gallup has 700." This is a fun way to support the community. The goal for our school along with the surrounding middle schools is to get 2,000 pop-top cans of soup. Together they are at 953 cans just between the two of them in this building.
    Mrs. Dryer also said, "I think the reason that people should give is because these are our fellow peers, I think that sometimes forget that when we sit in a classroom that we all come from different walks of life and even though we are at the same school some of us are very luck and some of us aren't.  "Some people's meal they get here is the only meal the get through the day."
   These are some great reasons for why we should give. When you decide to give you are becoming more aware of the impact you can have on your own immediate community. Every time we give cans of food we are easing the pressure of kids who only get one meal a day. Mrs. Dryer does give incentives, "We might drop one of the assignments they missed or they can get extra credit."
    The reason why Mrs. Dryer does this,  "I do it because I want to highlight for students that we all are in need at times and it's good to watch out for each other and if we can be compassionate about that and so for me it's my way to amplify that in a real way."
    Students also can get their NHS hours for this by helping Mrs. Dryer create the posters and hanging the flyers. Students also help create flyers. The food drive flyers that you see hanging around the building were created by Sydney Smith. They also get their hours by helping them collect the canned foods from each room and putting them into a box to ship to the food bank.
  The grub club food drive clearly helps our community in many ways alongside making students feel better when they give. As you can see, the food drive is a great program our school has been contributing to.
Leave a Comment
About the Contributor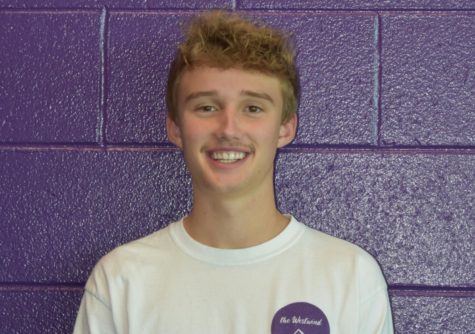 Riley Swanson, Editor in Chief
Riley Swanson is a senior this year at A-West. This is his fourth year participating in journalism. His favorite type of journalism is sports journalism,...