Tanner Korthius: The football player who loves to fish
Tanner how fishing impacts his life and he simply said it gives him a chance to think. Also, Korthius says that fishing relieves his stress
 Can you imagine a high school football player who loves to fish?. Well, Arvada West High School has a student who is just that. His name is Tanner Korthius. When I talked to Korthuis I was curious about who got him into fishing. His grandpa used to take him up every weekend to go fishing in Fort Collins in little fishing competitions." Tanner started fishing at a  young age and it continues to be one of his favorite pastimes.
 Korthius also used fishing to volunteer and help the community. He told me that he helped work for this organization that helps kids that grow up in bad homes. Korthious said that they took those kids fishing and he truly loved helping the kids fish. I asked Tanner how fishing impacts his life and he simply said it gives him a chance to think. Also, Korthius says that fishing relieves his stress. Korthius does all types of fishing. He does fly fishing, spinning, and trolling. Out of all of those, he says that spinning is his favorite way to fish. 
On the football team, Korthius says that only three other players on the football team share the passion. In case you're wondering if he doesn't really see these kids so they are not really close. Timewise, Korthius tries to fish as much as he can. If he doesn't have football practice or any homework he will make it a priority to go down to the creek to and fish. If he could he would fish every day. 
Fishing has taught Korthius to look at everything in detail, to look at the small things. Fishing has taught Korthius to be patient and has helped him have a calm mind and demeanor. I asked Tanner how you 
balance football, school, and fishing and Korthius responded, "Well football and school come first for now and if I am not sore and if I don't have any homework then I can go fishing." 
 Tanner does his schoolwork and then football and if he has any free time he will most surely fill it with fishing. As you can see, Korthius is a very good football player and student but his hidden pass time is being a talented fisher.
 He loves everything about fishing from it helping him relieve stress to just the sheer fun of it. Korthius uses fishing in so many ways to help the community and himself. Along with fishing at Ralston Creek Korthius also fishes at state lakes and ponds. Who knows maybe one day when you are walking or biking along Ralston Creek you might see a hidden boy bent overfishing for fish, crawdads, or about anything you can catch.
Leave a Comment
About the Contributor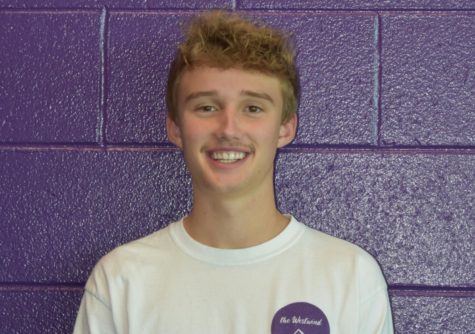 Riley Swanson, Editor in Chief
Riley Swanson is a senior this year at A-West. This is his fourth year participating in journalism. His favorite type of journalism is sports journalism,...