And The Band Played On
Just before the start of the 2021-2022 school year, the instrumental music teacher for the A-West band moved away. Students of the band were reeling, left wondering what would happen to the program, especially because of the pandemic.
For many students this school year represented a fresh start, a chance to leave behind the frustration of last year, and an opportunity to participate in some traditional school experiences. It was both a relief and a bit concerning when a new band director was hired, Noah Graf. With such a strong appreciation for the former band teacher, and with such little time before the start of the year, many wondered how would Graf fit-in, and if the band recover quickly enough to make the season a successful and happy one.
Ella Wennen, a sophomore who plays clarinet for the A-West Wind Ensemble was nervous about this year and all the changes it might bring:"I can't imagine what starting high school without [band] would have been like," Wennen continues. "Band was a really great place to meet people, so I didn't have to start out high school barely knowing anyone." states Wennen.
With the band providing such an important experience, Wennen continued to explain how she adjusted to the news of the former band teacher leaving, and Graf stepping in: "First, hearing we were losing our old band director was really devastating. Mr. Hansberry had been such a special teacher and losing him was hard. I had been worried about what our new band director would be like, but after getting to [start the year] with him I haven't had a single time where I wished Mr. Hansberry hadn't left. We all miss him, but Mr. Graf has done an incredible job stepping in and keeping the band program just as great as it had been previously!"
Graf, the new band teacher, has some things to say about his own music experiences that he was excited to bring to the table.  
He says, "I got involved with music when I was pretty young. My first memory of playing an instrument was when my parents signed me up for violin lessons in very early elementary school. I eventually switched to trumpet in middle school, when I saw how much fun my oldest brother was having in his high school marching band. Eventually, I found myself spending more and more time in the band room after school. By the time I reached my senior year of high school, I knew I wanted to become a music teacher."
Graf's dedication to music led him to join the Grand Junction Symphony Orchestra, as well as touring the country with the Bluecoats Drum and Bugle Corps.
"I've been fortunate enough to perform with world-class musicians from all around the globe, and have seen the way that music touches people's lives. I hope to bring some of my experiences to A-West, and help cultivate not only great musicians, but good people," Mr. Graf explains. 
Certainly, it is this appreciation for the transformation nature of music that has carried into Graf's classroom. He shows respect to his students and allows them the opportunity to cultivate their own love of music, building their own happy memories.
Wennen made mention of this experience, "Mr. Graf has done a great job making the transition from one director to another as easy as possible. I've appreciated how he's allowed us to keep our same traditions."  Wennen remarks, "Overall, it's a really great experience because of how fun it is and all the life skills you learn."
Mr. Graf echoes a similar feeling, "Their off-field relationships are just as special as the work they do on the football field. Their traditions and bonds that they form with one another are as strong as any family, and they never cease to make my day a little more interesting. They've made me feel at home in the often chaotic world of teaching music, and are always hungry for a new challenge. Our students understand the importance of building a legacy, and a strong organization that will last far into the future."
Say, Graf hopes to be apart of the A-West community in the future. He says, "Everything I hope to see in the future of the band is a continuation of the hard work that the members put in this year. I anticipate that future years will see us growing; adding to our membership and building on the existing traditions of excellence, discipline, and love for what we do."
The A-West band has seen big changes within their program, but the transition has allowed for students to hold onto well loved traditions, while moving the program into a bright, new future. It is a place where students can have fun, learn, grow, and make lasting musical memories.
"At the end of the day," Graf concludes, "the goal is to provide good experiences and teach important life skills to each and every one of our members."
View Comments (1)
About the Writer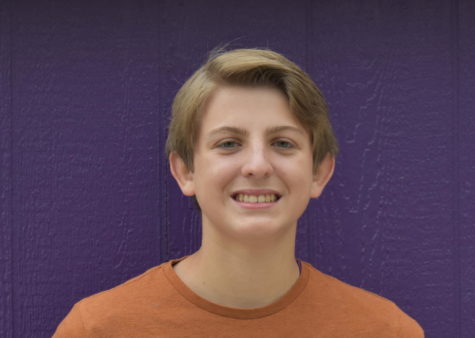 Aaron Nyquist, Reporter
Aaron is a Freshmen at A-West and enjoys singing, tennis, history, and relaxing at home. This is his first time taking Journalism. In his free time he...