Racing into the world: Tanner Scarberry's journey.
 High speeds, sharp turns, and nerves of steel best describe Senior Tanner Scarberry's life. 
Scarberry grew up with an admiration for racing. His family has a close history to the track,  as both his dad and brothers are skilled and have a love for the road
 Starting young at fourteen, Scarberry looked up to his family in the field, "It really started through my family, my dad was big on it, and my brothers were big on it. It was my turn to hold the throne."
Overtime, Scarburry's mistakes offered him a place to learn and develop strong skills. He then took the time to improve during off seasons by putting "his nose to the grindstone."
Driving a custom made Rolled Tubed Chassis,with a 1200 CC Yamaha engine, his car  is made to have consistent power and results. He also credits his steering wheel to be the best feature of the vehicle.
 He elaborates," My steering wheel has gone through a lot with me. From flipping through the air, to winning championships. It's been there for the journey." 
The vehicle has also brought him  his proudest achievements,"We had a national qualifier event. It was a three day show in three different states. We went in as the underdog,but ended up winning all three days, taking home cash prizes and awards."
Along with impressive achievements, Scarberry has had his fair share of wild experiences and situations.
He adds, " Just recently, at the end of June or the  beginning of July, I ended up getting into a wreck where I flipped three or four times. I ended up taking out almost six vertebrae along with having a concussion and some shoulder damage. I have arthritis in my back now."
Despite all the highs and lows, Scarberry says that the speed is his favorite part of racing.
He notes, "The speed is just so much fun! There's a difference between going 65,70 on a highway, then going 110 next to another car without touching. It's so much fun, and the adrenaline rush you get with it! Nothing really compares!"
Being a Senior, Scarberry has a lot on his plate. When on the road, all his time is demanded, and it makes it difficult to balance his school work. " Keeping up with school on the road is the most tedious thing ever. On a racing trip, my last concern  is to write an essay or take notes from a text book. I'm in a different mindset, and school is a pain."
 Struggles and personal challenges come along with racing as well. Scarberry comments," You go into mental challenges like being stressed and  tired. Physical wise, it is  a lot of training. You're doing these hundred lap races, and it's bearing on your arms and neck. It takes a lot of endurance."
Even when it gets difficult, he says that, " Mom and Dad are my biggest supporters.  My mom's really been there for me emotionally, but dad's done a ton for me overall. He's worked with me and taught me all sorts of things."
Besides his parents, Scarberry acknowledged his brothers as his biggest role models.
He further adds, " I also have looked up to the people who were beating me consistently. It's helped get me to where I am today."
With a bright future and a world of possibility ahead of him,Scarberry says,"I want to be a NASCAR driver. It's kind of a blatant question,you ask any racer and they want to go into the big leagues. If that doesn't go north, I'd like to do anything with cars. Put me in it!"
Leave a Comment
About the Contributor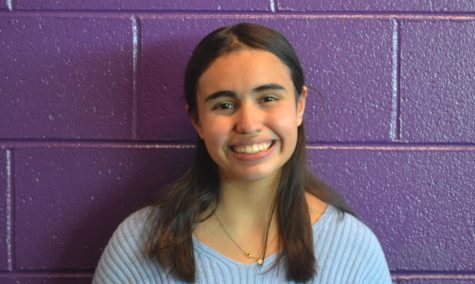 Chloe Rios, Staff
This is Chloe's first year in journalism. In her free time, she loves to do anything creative (painting's her favorite) and spend time with her friends....